Turbo Overkill Adds Endless Mode In Latest Update
Apogee Entertainment has added Endless Mode in a brand new update for Turbo Overkill, for those who are gluttons for punishment.
---
Apogee Entertainment and Trigger Happy Interactive have added a new update for Turbo Overkill that brings about Endless Mode. The mode is basically in the game for people who can't get enough punishment from the primary game, and now need to prove themselves in a never-ending onslaught of enemies who replace whatever you already slayed in front of you. The enemies will keep on coming after you've taken out the previous wave, with the mode not ending until you die or run out of ammo (where you will eventually die). You can read more about the mode below and check out the latest trailer showing it off, as it is now live and ready to play as soon as you update the game.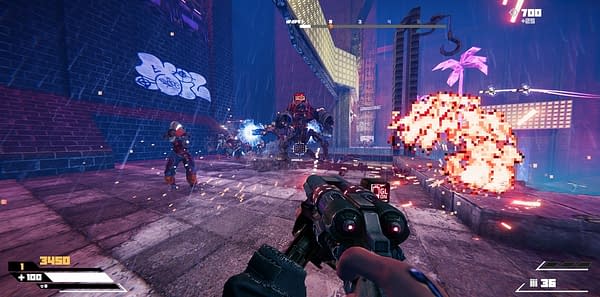 "Crank-start some carnage and prepare to fight unending waves of relentless cybernetic scum. Satisfy the thirst for slaughter with just the right amount of blood, guts, and mayhem. Multiple difficulty levels and various enemy spawn options will challenge even the most veteran gun-slingers. Beginning with only Johnny's trusty Magnums, Waster Shotgun, and Chainsaw Leg, fight for survival while progressing through multiple arenas with only one life to spare. Cleanse the neon-lit wastelands for loot, and exchange blood-soaked coins for exotic weaponry. Take a breather every three rounds during "Timeout" to lick wounds, restock on ammo, and spend hard-earned cash on rocket launchers and ion cannons."
"Enemies grow stronger after every bout, but so does Johnny. Inch closer to the half-man, half-machine hybrid we all know and love after every sixth round with major "augment" add-ons like the signature Grapple Hook, "Turbo Time," Micro Missiles, and more. Keep up the kill streak as combo-tastic killing sessions skyrocket the score multiplier and soar to the top of the leaderboards. Earn medals by completing select annihilations like triple kill, chainsaw kill, fire kill, and more."