Ubisoft Apparently Killed A Three-Year Secret Project
Game companies kill off projects all the time for a variety of reasons. But we usually find out what they are when it happens. Not so much with Ubisoft. The company has been working on some projects that, while we're aware they're in progress, it's total guesswork as to what they are. Unfortunately, that total went down by one this week as the company has killed off one of them. One of Ubisoft's graphics programmers, Louis de Carufel, took to Twitter yesterday and posted a couple of now-deleted tweets. You can read them below as they were preserved by Reddit posters, as he says a project he's been working on for the past three years was canned. On the bright side, no one lost their jobs as the company allowed everyone on the team was allowed to go work in a new area. We also now know the company has 15 different projects in the works.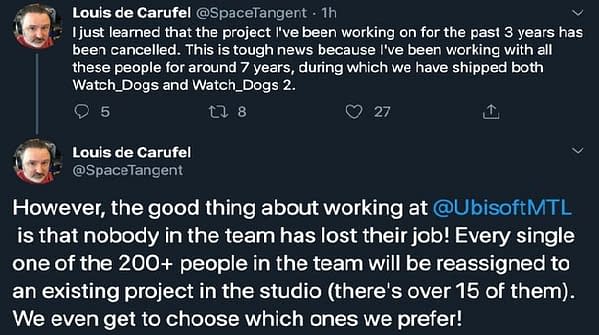 The primary thing we have to ask ourselves is what could Ubisoft have been working on all this time that it eventually got canceled? It's pretty much a given that at some point we're probably going to get a new Assassin's Creed, a new Far Cry in the next few years, tons of content for the Tom Clancy games. Probably Just Dance 2021 is in the works, Watch Dogs: Legion is on the way, the Skull & Bones pirate game on the way. And, of course, the always rumored plans for a new Splinter Cell game and the recent rumblings of maybe a new Mario + Rabbids sequel. So it's a developer's delight to choose from if you're part of that 200 member team.