Ultimate Werewolf Extreme Hitting Kickstarter In Late Summer 2020
Bezier Games is bringing the next Ultimate Werewolf game to Kickstarter later this summer! Ultimate Werewolf Extreme is a project that's two years in the making and it may revolutionize the world of social-deduction games.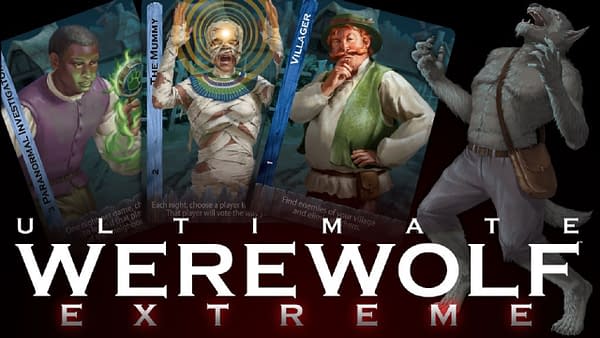 Ultimate Werewolf Extreme is a social deduction game wherein players play as a group of villagers trying to figure out who amongst them has gotten afflicted with the curse of lycanthropy, or "werewolf-ism," as it were. Along the way, the werewolf is hidden amongst these villagers and will aim to eat one of them every night, expelling them from the game. Beyond this, when a villager is wrongly accused of being cursed with lycanthropy, they are also expelled from the village and the game.
To aid in the villagers' investigation, a detective, sometimes two or more, is included in the group, whose aim is to discern and expose who the werewolf is. There are likely other roles, but in traditional Werewolf, this is what people usually do contend with for sure. Ultimate Werewolf Extreme is apt to push the limits of what a typical game of Werewolf will entail.

Key features of this game include at this time:
Brand new art from celebrated artists Christine Mitzuk and Simon Aan.
A new role balancing system based on information vs. the number of werewolves.
Optional rules to increase difficulty, such as secret lycans, alternate nominees, celebrations after werewolf elimination, werewolf stealth and revenge, and elected judges responsible for elimination.
More than enough cards in the base game to play three simultaneous games of Ultimate Werewolf Extreme.
All the roles you love from Ultimate Werewolf and its multiple expansions.
More than a dozen brand new roles specifically designed for Extreme play.
3D tokens given to players that provide new abilities, such as an ivory tower, charms, sandwiches, and a judge's gavel.
An abundance of information is subtly integrated into the artwork on each card, in addition to the standard role name, description, team, and balance value:

Info value – how much information this role provides regarding werewolves
Moderator difficulty – effort required to include this role in a game
Wake order – relative to other roles that wake at night
Wake frequency – how often the role wakes throughout each game
Impact on game length – how this role makes the game longer or shorter
Special requirements/considerations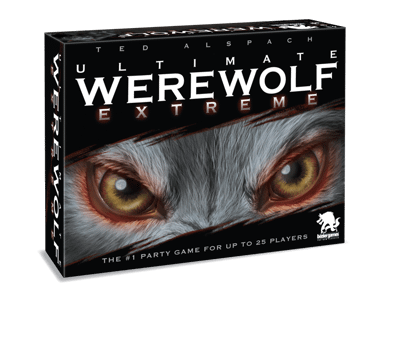 On top of all of these features, Bezier Games is planning to integrate a smartphone app for iOS and Android to assist with gameplay. Some vital features for that include a deck configuration tool and a game moderation assistant. How helpful!
Have you ever played Ultimate Werewolf? Is it fun? What roles have you played and have you enjoyed being in them? Let us know in the comments below!