Valfaris: Mecha Therion Drops Free Demo On Steam
You can try out a free demo of Valfaris: Mecha Therion right now, as the game is headed to Early Access sometime this year.
---
Big Sugar Games and East2West Games released a free demo for their new game, Valfaris: Mecha Therion, on Steam this week. The game has been developed by indie studio Steel Mantis, as they have created what feels like a throwback to arcade side-scrolling shoot 'em up titles with far more action, 2.5D visuals, and challenging bosses, all presented in a low-poly art style for the retro vibes. The game basically serves as a sequel to the studio's previous action-platformer title, Valfaris, which was praised as one of the best indie PC titles from 2019. The demo that they made available contains the game's entire second stage and a selection of weapons to sample, including the Hellwraith, a minigun that shoots tormented souls. As well as Therion's Fist, a giant hammer infused with blood electricity. We got more info on the game for you below as we wait to see when it will eventually be released this year.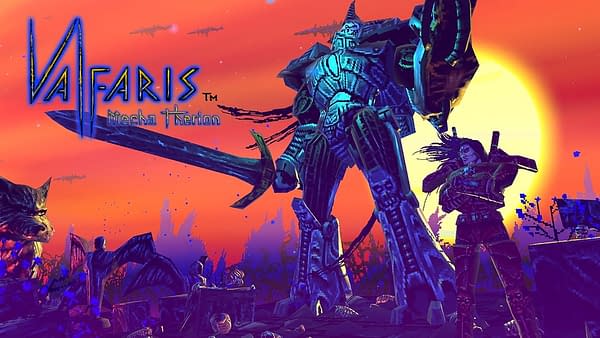 "Therion returns as the hunt for Lord Vroll continues. Pilot an advanced machine of death and destruction in this explosive 2.5D side-scrolling shoot 'em up, and sequel to the critically acclaimed Valfaris. Strap in and unleash mecha hell! After escaping Valfaris, Therion's hunt for the evil Lord Vroll has taken him across the galaxy. As the final, inevitable showdown looms, Therion harnesses the awesome combat ability of his secret weapon – Mecha Therion! A formidable suit of weaponized metal, Mecha Therion can be equipped with an array of devastating firepower, including enemy-eviscerating favorites such as Bringer of Mayhem, Skysplitter, and Therion's trademark Hellwraith."
Fight through multiple levels of hostile alien territory.
Master a range of Destroyer, Melee, and Auxiliary class weapons.
Configure your Mecha loadout with your favorite weapon combos.
Earn Blood Metal to upgrade weapons and add-ons.