'Star Trek: Dark Remnant' Pits You Against Klingons in VR Experience
VRstudios announced a new virtual reality experience in Star Trek: Dark Remnant putting the player as member of the Federation in a battle against the Klingons.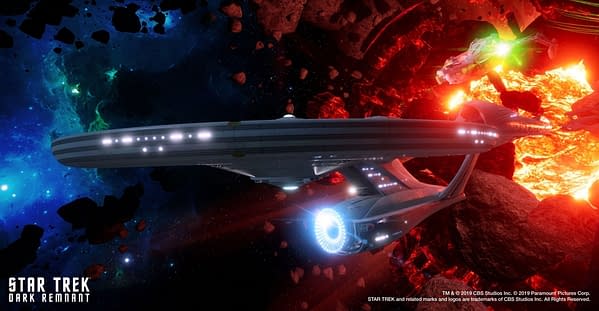 Exclusive to Dave & Buster's locations, the multiplayer game puts you in control of the U.S.S. Galileo, Starfleet's latest and most-advanced stellar research vessel. You and your crew get an assist from the U.S.S. Enterprise on a routine mission to evacuate a stellar observatory located in the middle of the Klingon Neutral Zone and learn more about the decaying neutron star it orbits. The premature collapse of that star leaves the Enterprise incapacitated, and it's up to you to protect her from both stellar debris and the unwelcome arrival of a vengeance-seeking Klingon ship.
Dark Remnant is never the same experience, according to the developers, with subtle differences in gameplay, randomized player characters, dialogue that responds to your performance, and several unique endings.
The combination of VRstudios and their development partner Strange Reptile create an experience where players will encounter awe-inspiring vistas from their stations on a special research-observatory style bridge and will have a front row seat for dynamic and thrilling flybys of both the Enterprise and a Klingon Battlecruiser. The action will be controlled through a sleek and special virtual interaction device that enables players to control the Galileo's phasers, deflector shields, and sensors. Star Trek: Dark Remnant leverages both VRstudios' and Strange Reptile's years of work in Location-Based Virtual Reality, including VRstudios' deep understanding of the Dave & Buster's simulator.
Chanel Summers, VRstudios' Vice President of Creative Development, mentioned the unique collaborative experience in the realm of Star Trek in the company's press release.
"Players get a perspective of the Star Trek universe in a different way than they have experienced before – coming face-to-face with the Enterprise in all its beauty and splendor. Working together with Strange Reptile on this title has enabled us both to use our complementary strengths to delight players with this unique Star Trek adventure. We have combined all the well-established frameworks of Star Trek with some all-new story elements and characters, while also delivering multiple different endings to keep players coming back for more!"
Since developing their multiplayer VR simulator in June 2018, Dave & Buster's expanded their VRcade Attraction Management Platform (AMP) throughout their locations across North America with 137 individual simulators running three titles. Dark Remnant will be available in 122 locations.