[rwp-review-recap id="0"]
Mortal Kombat at this point in time is basically an institution in gaming and the fighting genre, with Mortal Kombat 11 being the next phase of its legacy. Ever since the cliffhanger ending to MKX in a universe drastically altered by the events of MK9, everyone has been curious as to what the future holds for Earthrealm, Raiden, and everyone who survived the onslaught of Shinnok. Four long years worth of waiting for this moment, and we finally have it, as we got to review Mortal Kombat 11 on the PS4.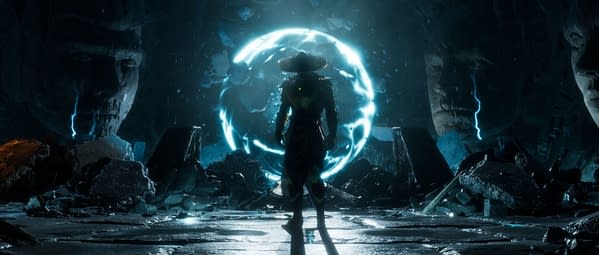 The game starts off where the previous entry left off, showing Raiden inflicting his own brand of justice on Shinnok before taking off his head and delivering it to the NetherRealm as a warning to its new rulers, Liu Kang and Kitana. We're then taken two years into the future where things have changed a bit with Dark Raiden now guiding things, where Earthrealm is no longer on the defensive end of things and is taking the right to their enemies. Even at costly measures. These events have caused disruptions in the timeline, which is closely guarded by the game's new big boss named Kronika, the Keeper of Time. She has decided that Raiden's interference cannot continue and after a major battle, enlists the help of the current versions of Liu Kang, Kitana, their revenant pals, and some names from the past like Shao Khan to change the timeline and remove Raiden from it altogether.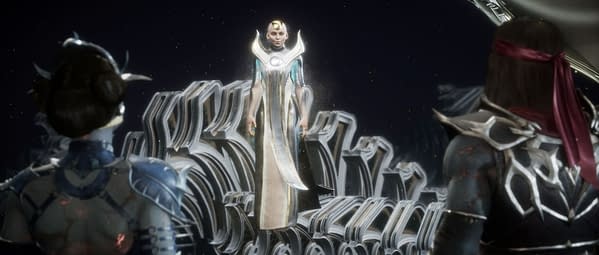 We'll keep the storyline spoilers to a minimum, but as far as the writing goes, this is probably one of the most in-depth crazy fanboy scripts I've ever seen in a Mortal Kombat game. Every piece of this is filled with reimagined fights, hidden gems, bits of humor, and about a couple dozen WTF moments. Like a lot of fighting games that have stories, some of the transitions and excuses for characters to get into a battle are paper-thin, but it's forgivable because that's the genre. It's not an RPG or an action title, it's a fighting game, and you have to make excuses now and again to get to the core of why you're playing a fighting game. At least this time around the fights tend to make some sort of sense. One of the issues I have sometimes with NetherRealm storytelling is that occasionally you'd run into people who had no business being in a location just to spark a fight. Like in Injustice 2 when Superman and Batman run into Swamp Thing and Firestorm on Brainiac's ship without even seeing them be kidnapped. Here, those kinds of encounters have been quelled for the most part.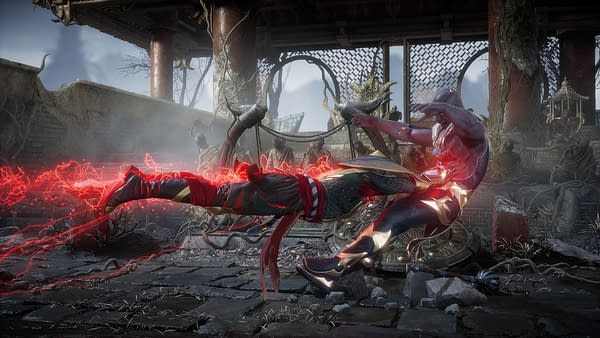 As far as the combat side of things goes, this is, at least in all my years of playing, one of the easiest to learn fighting systems in the series since MKII. If you've played as someone like Scorpion, for example, a good chunk of his moves still exist from the last two entries, but they're accompanied by a few new tools and new combos to spice things up and make the experience interesting. Playing as Johnny Cage and Noob Saibot I was able to do moves from the past quite easily, but then discovered some new amazing grabs and combos that made the combat flow better and helped me gain victories over my friends and in the story. Granted, you still have a number of moves that are a pain to learn, but with enough practice, it's possible to go from novice to pro in a short amount of time. Especially if you did like us and hooked up an arcade stick to make hitting moves easier. The system seems more tailored to planned fighting as opposed to rushing in, which shows with the divided meter bars in the corner to give you more of a tactical approach to offense and defense.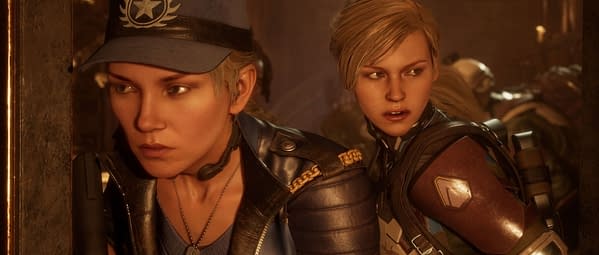 One of the best changes to the combat was doing away with the X-Ray system and adding in both Fatal Blows and Krushing Blows. The Fatal Blow is a move you can perform once a match when you're low in health and need something to even the odds, as you'll get an indicator to hit the two bumper buttons on your life meter. Krushing Blows are done when you hit a specific combo and land the final punch, going to a quick X-Ray that doesn't take forever to get out of. Both of these were easy to execute no matter what character I was playing, which gave me added valuable tools to utilize in my arsenal. Of course, Mortal Kombat 11 comes with the usual Fatalities, this time feeling like they too have been turned to 11, as they all look even more ridiculous and gory than ever before. Harkening all the way back to me as a kid in an arcade ripping someone's spine out with Sub-Zero, it's still a satisfying end to humiliate your opponent and put a bloody stamp on the end of your victory.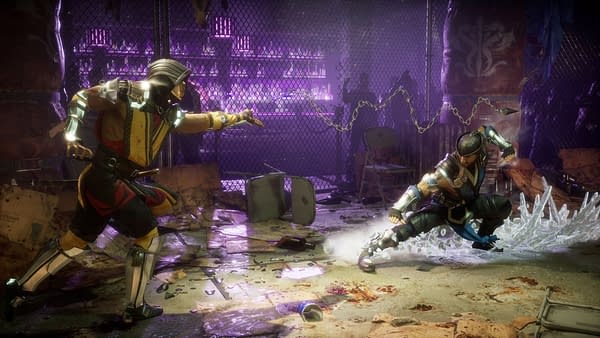 But Mortal Kombat 11 isn't just versus mode and story, as NetherRealm has added in more modes to keep the fighting going long after you've played the latest chapter and conquered all your friends. The online mode has been given a tune-up as its easier to find random matches and even be paired with someone at your same skill level if you're still learning the ropes. Since we received a review copy, we were basically in a mesh between the average gamer and the super experts probably competing at EVO this year. Regardless, the system is quite easy to navigate and get in some matches that helped improve my skills. Another game mode is the Towers of Time, which are designed to have you go through a series of trials against specific characters with different effects happening as you fight them. Like having the ground quake and stun you, or raining down fireballs in random directions, or you at half health while the CPU has double the normal health. These are basically here to challenge your grit, which can become tiresome, but it's no different than the World Of Light quests in Super Smash Bros. Ultimate. It's all a matter of mastering your character and running with the hand you've been dealt. The towers do change out every now and again so if you hate a specific tower, give it an hour or two and it'll be different.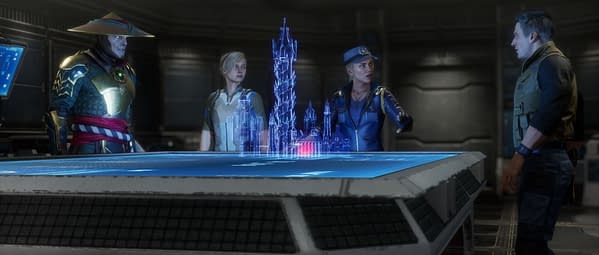 There's also a brand new version of The Krypt, as you're greeted by what is essentially an apparition of Shang Tsung at his temple to roam the hallways in search of new items to equip to your character. It was interesting to get a third-person exploration game as a side quest system, but the one drawback is that all of the gear is RNG, so you have no idea what you're getting for whom until you actually complete the task ahead. The developers also learned the harsh lesson from Injustice 2 about the gear system and have changed things up. The majority of what you can equip to characters, whether it be skins, special items, different weapons, intros, extra fatalities, etc. is all cosmetic. So no longer will you have to deal with someone who managed to unlock all the goodies and now have options to last a little longer in matches, you're just looking at someone with a reskin of Baraka. The items you can unlock that will help you are extra core techniques, which you can change out and customize for your own version of the characters. It allows you to make a character with the kind of style you want to use to a certain degree, but it doesn't make you overpowered, it just makes you a different kind of fighter and a challenge for people to get used to.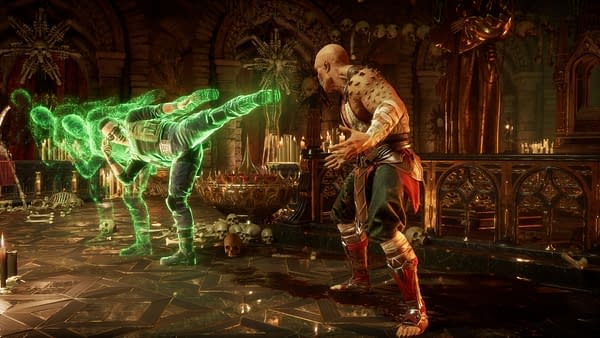 At the end of all our fighting and questing and online competition, Mortal Kombat 11 feels like the perfect fighting game. That's not nostalgia or a love of the franchise talking, either. This is one of the few fighting games where I didn't walk away in frustration after getting beat a couple of times by pros, I got back in and took the victories I knew I earned. This is a story that feels complete and doesn't have a bunch of plotholes dragging it down. This is a game I wish I had an arcade version of in my home! It's clear that the developers have learned their lessons from each previous game they've made from Mortal Kombat and Injustice, and have refined their techniques to make a fighting game and expanded on what it could be. There's very little here to complain about, and what I do have issues with are so minor that I can either ignore them or wait for them to change.
Regardless of how you may feel about fighting games or this franchise, it's clear that the team behind Mortal Kombat 11 not only raised the bar, they cleared it after doing so. This is definitely a GOTY candidate and one you need to try just for fun.
Enjoyed this article? Share it!