It's always awesome to see a new subscription box come in the mail, and I was particularly excited to see what out first from Loot Gaming would be. Sadly, the United States Postal Service doesn't share our enthusiasm. It may not look it from the photo below, but this box was beaten to hell with the t-shirt slightly hanging out of it when it arrived. Thankfully, nothing was lost inside of it, but if you ever get a box like this, alert the people who send them immediately! With a sigh of relief, we review the Loot Gaming box for June 2017.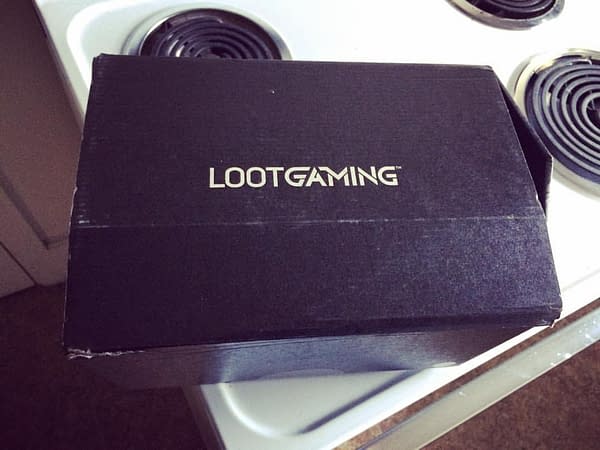 The first thing that popped up was the Fallout 4 AER9 Laser Rifle. This is a detailed recreation of one of your main weapons from the Bethesda game, essentially designed to just be a model on display. Four simple parts, you slide the two legs into the stand and then place the gun inside. No special gimmicks or add-ons or anything like that. Just a simple model to display on your desk or shelf. There's great attention to detail in here with all the metal parts looking worn and weathered, while the primary gun clearly looks like it's been jerry-rigged to work properly. This is a nice addition for a Fallout fan.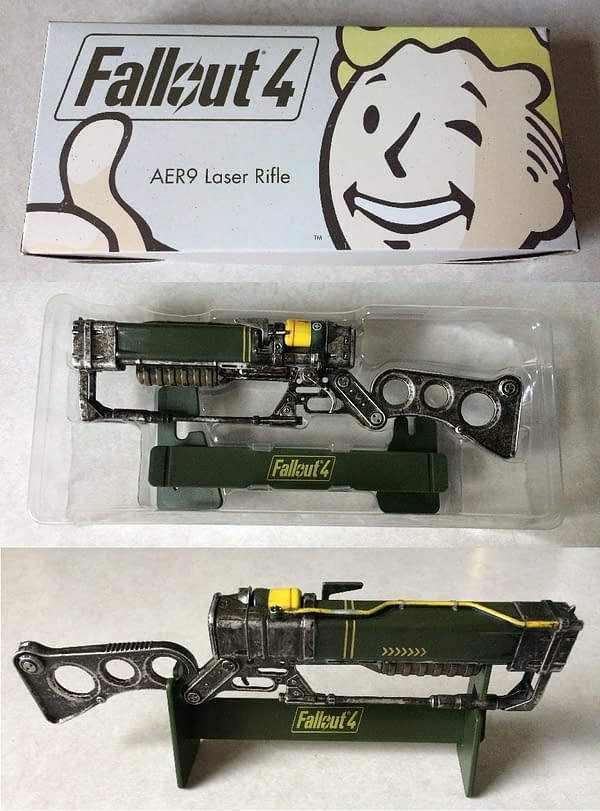 While we're on the subject of Fallout 4 (which was the primary focus of this month's box) we have a Champion Bottle Cap pin with Nuka Cola on the front. This is one of six options that were randomly placed in the box. Prior to this, I got a red bottle cap that's also one of the best fridge magnets around, and it was awesome to have a different version serving a different capacity. As you can see, it's a small safety pin version made by Funky, which makes it easy to pop out and attach. As far as buttons go, this one is killer.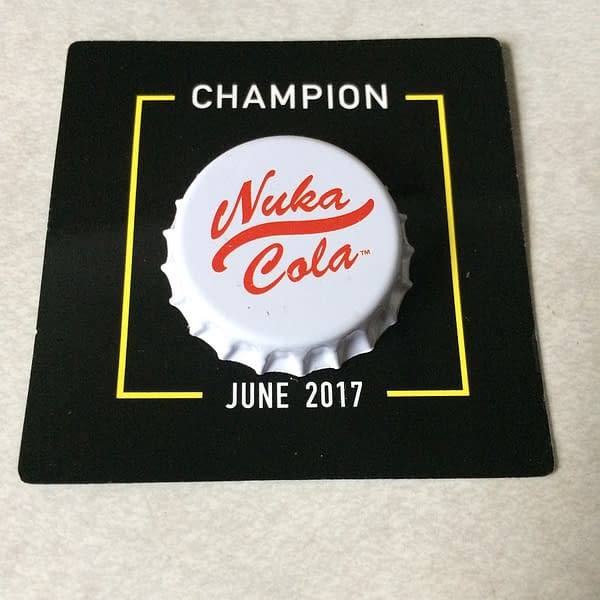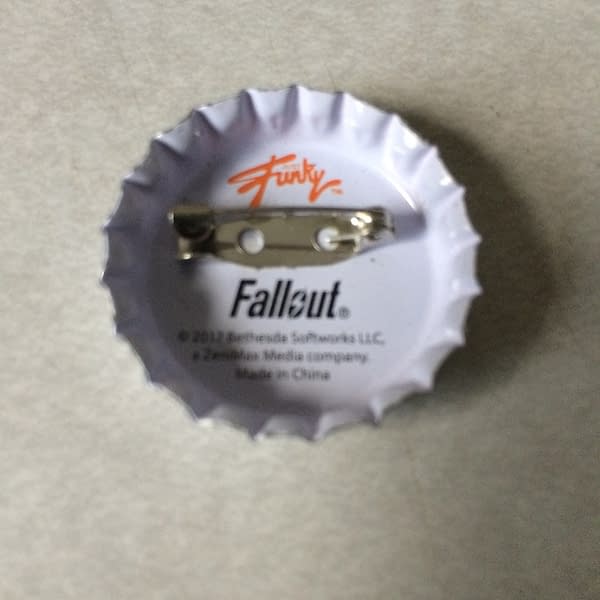 Rounding out the Fallout 4 gear is a Loot Gaming poster with the iconic armor in a garage. The poster feels hit and miss for me. I adore the artwork and the design of it all, but having it as a fold-up poster kinda ruins it for me as it will take time to remove the creases. Also, when you get posters, having a logo in the corner feels like cheap advertising. I totally understand why Loot Gaming put their name on it, but at the same time the other side of the poster is an ad for everything inside the box, so it felt unnecessary.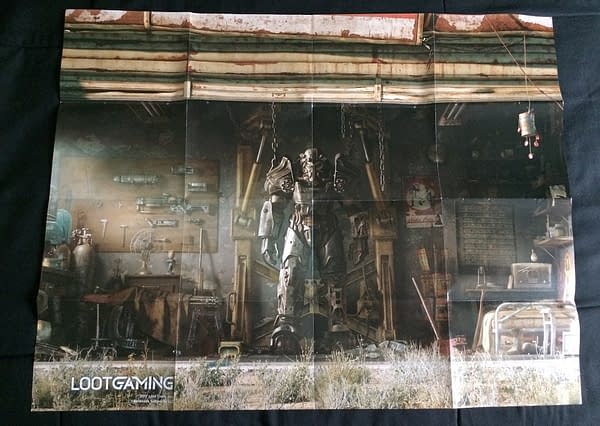 By far, the coolest item in this box for me was a Battletoads Belt Buckle. Sitting in a box with Rash, Zitz, and Pimple look badass, we get a gold buckle with the classic Battletoads logo across the front. Now to be clear, this is fabric tooth belt, meaning you need the belt itself alone to hook into the first half of the buckle, then you use a pin to slide it shut when you bring it all the way around. Simple design without needing notches, this is basically the pimp gamer item of the box. So stoked to have this.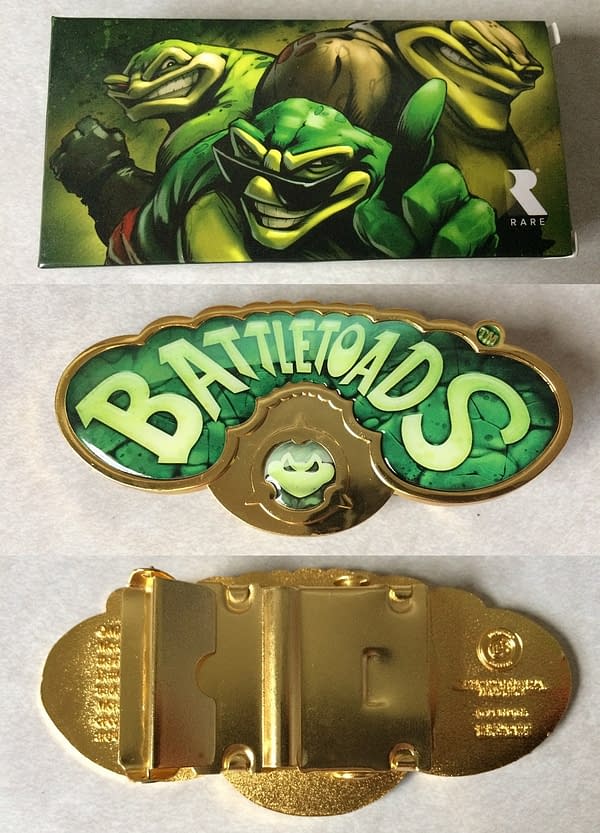 Next up is an awesome figuring from League Of Legends as Riot Games created this line of characters from the game to add to your collection. We got Miss Fortune as one of the 12 random characters we could have received, decked out in her pirate gear and twin pistols ready to shoot. Before you ask, no, the figure doesn't do or add anything special to the game, it is simply a figure for display. But it is a well-designed version with no flaws that we can see. If you're a League Of Legends fan, this is going to be a must-have.
The final item in the box is, of course, the t-shirt. This one is a bit of an oddity but that isn't necessarily a bad thing. Brütal Legend star Eddie Riggs adorns this month's shirt in a three-color print that is reminiscent to '80s metal shirts. It is a damn fine design with skulls on every speaker and lighting crackling down as Eddie wields two axes at once—one double-sided and the other as a Flying V. This is a shirt that fans need to have. That being said, Brütal Legend is eight years old and not really talked about, and if the rumors are true and we're getting a proper sequel, that's still a couple years away. So, while awesome, it feels slightly out of place.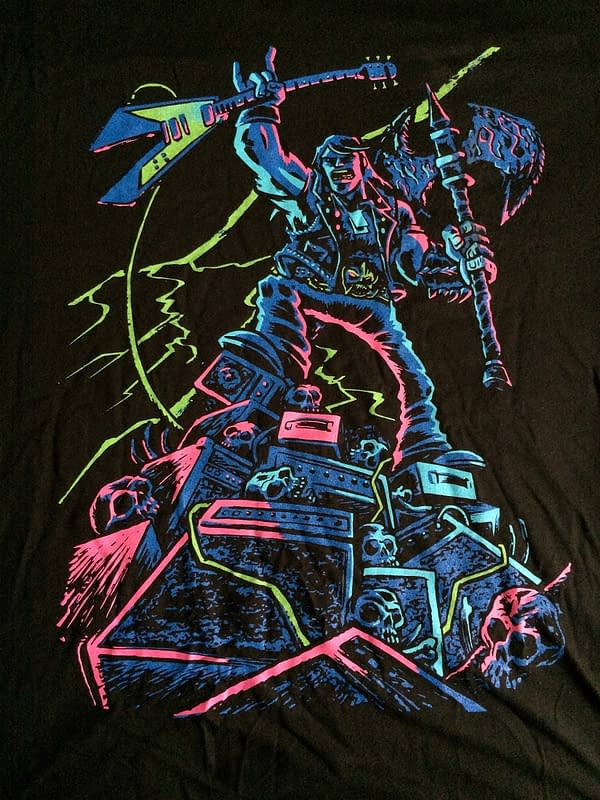 Overall, this month's box was nice. I felt very 50/50 about it because while there's stuff in here that I love and appeals to me, some of it was just okay. Again, not a bad box by any means, but I do get the sense that some of these items were thrown in for the sake of being thrown in. It will be interesting to compare this box to next month's box and see how they differ in theme and what's included.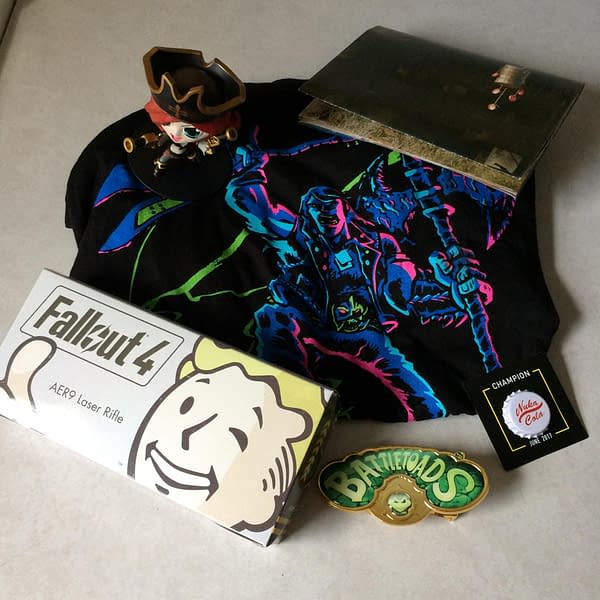 Enjoyed this article? Share it!