WindJammers Is Getting A PS4 And PSVita Release in August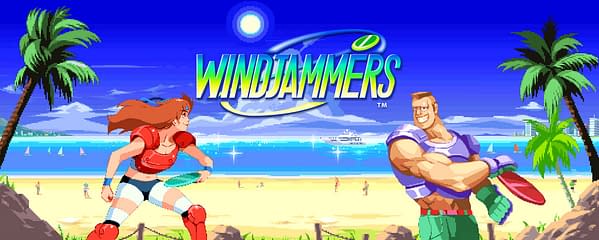 DotEmu, developer and publisher specializing in modern releases of beloved retro games, is thrilled to announce that Windjammers will be available on August 29th on PlayStation 4 and PlayStation Vita. As you might have guessed from DotEmu's specialty, this is not going to be an HD remaster or anything more fancy than the WindJammers we all know and love.
Alogside the announcement, DotEmu gave their thanks to the participation of thousands of gamers in in the closed beta last June, with a special mention of the French WindJammers community. Starting August 29, gamers can play as one of six unique characters and compete against their friends in local or online multiplayer matches in an arcade-like experience. Or, thanks to an improved GGPO netcode, gamers can climb the "Ranked Mode" ladder and challenge the world's best Windjammers players.
And if that's not enough for you – because when is it enough when it comes to this game – there will also be official merch coming as well.
Along with our partners at Fangamer and Wham-O®, we're pleased to announce that official Windjammers merchandise will be available August 29, coinciding with the game's release. T-shirts, caps, and pins representing pure, authentic 90s style, along with an official Windjammers Frisbee®! Become the real pro jammer you've always dreamed of being.