Wargaming has announced this week that World Of Tanks is getting a new mode inspired by the 75th Anniversary of VE Day. The new mode is called "Road To Berlin" and it kicks off today and will run until May 18th, 2020. This is a new PvE Mode that will celebrate the anniversary of the armistice that marked the end of World War II in Europe. In it, tankers will have the option to join one of five different Units as you will choose between Soviet, American, and British forces. Each unit consists of three middle-tier vehicles of the same type and has a set of Combat Boosts, which will include the standard array of Airstrike, Artillery Strike, Special Shells, and more to fight off the enemy forces in a more efficient fashion. Once you choose what you're doing, you'll be teamed up with four other commanders to take on AI-controlled adversaries. You can read more about the mode below along with a quote from the devs about the event.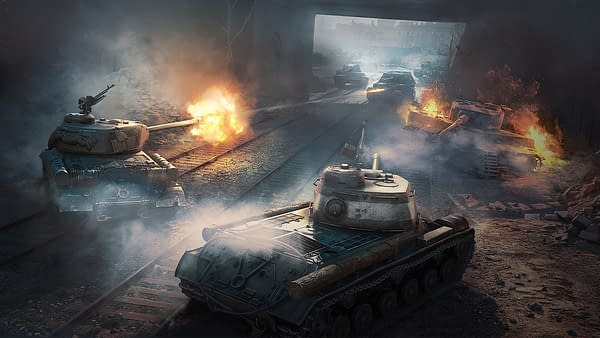 Each battle has five sequential objectives, or Battle Missions, where players will need to harness a variety of battle tactics, from capturing to defending special zones to toppling the opponents and finally defeating enemy commanders. Battles will take place on four maps that have been crafted specifically for Road to Berlin, including the brand-new Berlin map. Three of them will be available from the start; however, the Berlin map will only become available from late into the evening of May 8th, the time when the ceasefire became official 75 years ago. As players progress in the mode, there are a variety of rewards to unlock, including Decals, Bounty Equipment and a special Medal. Those who can prove themselves in the mode, will be rewarded with the grand prize: the IS-2 with spaced armour.

"The end of the Second World War in Europe is a key part of global history," states Max Chuvalov, Publishing Director, World Of Tanks. "By creating this mode, we intended to remind people all around the world of this anniversary."
Enjoyed this article? Share it!