Wargaming has sent out a new 0.9.5 update out for World Of Warships which is bringing in a few new mechanics and changes. The new update will allow players to construct two German ships: the VI Admiral Graf Spee and the VIII Odin, both of which can be made directly within the Hamburg Port Dockyard. The Soviet Cruiser branch has also received a rework and added two new premium ships in the Siegfried and the Ägir. There are also some new mechanics with he dockyard in general and new ship designs, all of which you can see below in these screenshots and a couple of trailers.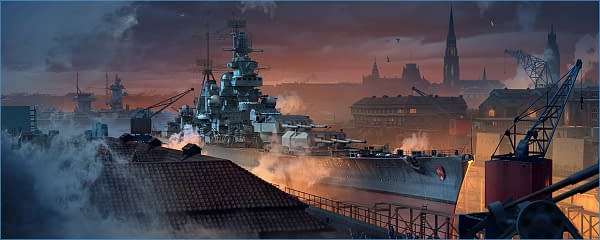 The updated Dockyard mechanic is the main feature of Update 0.9.5 and allows players to construct the VI Admiral Graf Spee in "War Paint" camouflage, as well as obtain the VIII Odin heavily discounted upon completion. This ship's construction is spread out across 20 shipbuilding phases of which 18 can be finished by completing Directives. The remaining two phases can be settled by spending Doubloons. In addition, the Soviet branch will grow with new ships and see additional changes. The Tier X Moskva will become a special ship, obtainable by spending the in-game Coal resource. Moskva's place will be taken by the light cruiser Tier X Alexander Nevsky. The Tier V Kirov becomes a premium ship with the Tier V Kotovsky replacing her as a light cruiser.

Update 0.9.5 also revamps the Armory interface by improving navigation between menus and sections, and adding the possibility to preview ships and camouflages in the Port. The combat mission interface has also been improved significantly and has added new challenging "OR" conditions. This allows players to choose their own path in fulfilling mission objectives and getting rewards, such as being able to select between earning 10,000 Base XP "or" to destroy 10 enemy ships.
Enjoyed this article? Share it!