Xbox Will Release a PlayerUnknown's Battlegrounds Version of the One S
Today, Xbox announced that they would be releasing a special version of the Xbox One S for PlayerUnknown's Battlegrounds, set to be released in just two weeks on February 20th for the price of $300. Below are the finer details of what you'll be getting inside this version that were sent out in a press release this morning, though we are a little surprised that Xbox didn't go all the way out with the design and create something more special looking with the box itself. Not a bad bundle if you're looking to get a new console and the game in one.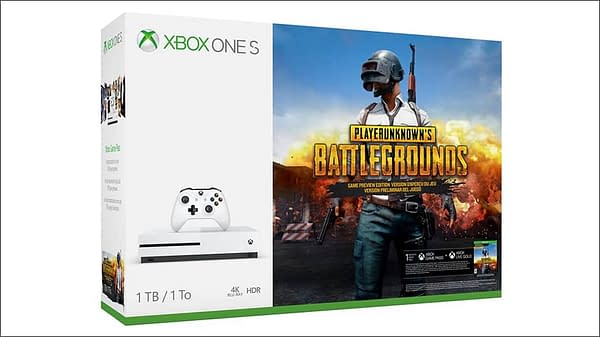 An Xbox One S with a 1TB hard drive, Xbox Wireless Controller, built-in 4K Ultra HD Blu-ray player, support for 4K video streaming, premium audio with Dolby Atmos and access to a games library of over 1,300 games like Forza Motorsport 7 and Cuphead.
Full-game download of PlayerUnknown's Battlegrounds. Join the battle playing solo, or team up with friends in duos or squads. With the Xbox One S PlayerUnknown's BattlegroundsBundle, you're one step closer to earning your first chicken dinner.
1-month Xbox Live Gold trial so you can experience the most advanced multiplayer network.
1-month Xbox Game Pass trial so you can discover over 100 Xbox One games across three generations of games. Xbox Game Pass members will also receive access to new games from Microsoft Studios like Sea of Thieves, State of Decay 2 and Crackdown 3 on the same date as at their global launch.