Yu-Gi-Oh! Card Forger Arrested After Selling a Fake Rarity
If you're going to fake a Yu-Gi-Oh! card for sale, maybe you shouldn't add it to people who are obsessed with the series and know what a fake looks like. Shunki Iwasaki, a 29-year-old counterfeiter from Japan was arrested this week after selling a rare card from the series to a collector in Kyoto for $3,500. The card in question is "Lorelei, The Symphonic Arsenal", probably one of the best looking cards Konami has ever produced, but not many would know since only six of them were made. The card itself was a prize awarded to winners of the 2008 Yu-Gi-Oh! World Championships. Below you can see the real deal on the right and the counterfeit version on the left.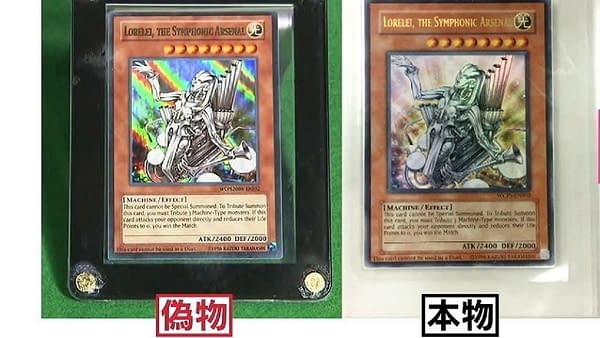 The auction was handled online, and after the buyer saw the card, they knew it was a fake and reported the seller. This eventually led to Iwasaki being arrested after his information was tracked down. Card counterfeiting is nothing new, as people get duped on a regular basis for cards that don't have any value masquerading as valuable rarities. Only those with a trained eye and some experience in card trading know how to spot a phony instantly. Basically what we're saying here is that if someone is selling a card online… don't buy into it unless they can prove where it came from. If it's worth something, people usually sell them in person with others around to authenticate.