Agents of SHIELD Season 5, Episode 17 Recap: The Honeymoon
This article contains spoilers for the Marvel's Agents of SHIELD season five episode – The Honeymoon.
.
.
.
.
.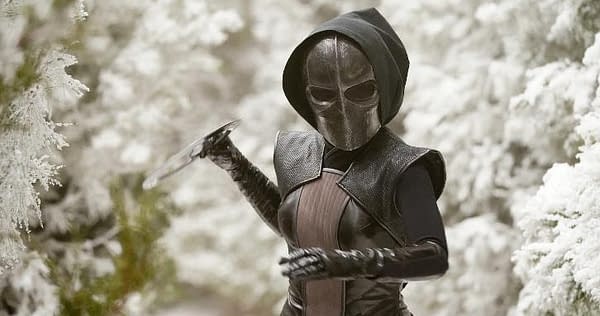 The episode starts with Fitz (Iain de Caestecker), Simmons (Elizabeth Henstridge) and Yo-Yo (Natalia Cordova-Buckley) flying a Quinjet into England to find the weapon General Hale (Catherine Dent) is looking for. Simmons mentions it would be nice to come back there for a honeymoon if they ever get one. Then the put it on autopilot and jump out. Meanwhile in the mountains, Coulson (Clark Gregg) is trying to keep Talbot (Adrian Pasdar) moving, but he is down on himself for not staying strong against Hale. Coulson tells him that no one will see it that way and that they need to keep moving. We see Ruby (Dove Cameron) use the alien device to go after Coulson and then we see the Zephyr coming into the mountains to find Coulson. So, lots of folks coming together in one place. Daisy (Chloe Bennet) decides to set the Zephyr down and search on foot. Ruby catches up and attacks Coulson and Talbot, but Daisy stops her just in time. Orders May (Ming-Na Wen) and Deke (Jeff Ward) to get them on the ship while she'll take care of Ruby. And while Daisy tells Deke to go back to the ship, he stays, and we get the Quake vs Ruby battle we've been waiting for. It's a decent fight but Daisy takes out Ruby, but Hale comes in guns a blazing and shoots up Deke. Daisy gets him to the Zephyr and they take off.
Deke's in bad shape and their racing back to the Lighthouse, but Simmons isn't there. They are sneaking into a compound marked radioactive but isn't but is guarded by Anton Isanov (Zach McGowan). Mack (Henry Simmons) is finally let out of the cell he was locked in last week. Deke gets worse and while Agent Piper (Briana Venskus) has field medic training, she has no surgical training, so Mack is going to do it with her guidance. General Hale sends Ruby to her room for nearly killing Creel (Brian Patrick Wade).
Mack starts doing surgery on Deke while Coulson catches Talbot up on the future. May pulls Coulson aside to talk to him about his reckless behavior and how he doesn't get to make those decisions alone, that he has to talk to the people who love him. And she tells him that she loves him… which shuts him up and she walks off. Strucker (Spencer Treat Clark) has found the answers to using the Particle Infusion Chamber and tells Ruby, the asks her why she doesn't just tear Hale apart. Simmons and the others distract Isanov and sneak in to discover the Chamber and plan to destroy it. Ruby turns on Hale and locks her in the room while Strucker kills a few scientists to motivate others to listen to him and start loading stuff to go to the chamber.
Daisy goes to talk to Talbot. He reacts poorly at first, remembering being shot, but then pulls it together. He wants to talk to his family but can't yet. She needs him to tell her everything he told Hale. Fitz destroys a part of the chamber that is crucial, and Yo-Yo tells them that her future self said they need to let Coulson die. Banging on the door means the guards are back, Yo-Yo races out to take their guns but comes back in pain and her arms sparking. Her arms won't work with her speed. They start looking for an alternative exit. Deke starts to crash, they get the bullet out, but Mack has to sow the artery shut before he bleeds out. The robots break in on them, Fitz and Simmons shoot it out with them while Yo-Yo goes for the Quinjet but is confronted by Isanov. Yo-Yo takes out Isanov with a two-story dive and it takes out all of the robots. But Ruby and Stucker show up and take them hostage, forcing Fitz to fix the component he broke.
Deke lives and in his drug induced state admits his attraction to Daisy to Mack and Piper. Daisy comes in and says they just got a ping. Daisy also finds a phone to allow Talbot to call his family, but his wife reads him a trigger phrase that sets up deep conditioning and now we have to worry about him as the credits role.
This episode moved a lot of things along and the Talbot twist at the end is pretty interesting, but Mack doing surgery was a bit of a stretch. He was so calm and talking about his feeling about Yo-Yo… all while Deke might be dying. Does no one like Deke at all? It almost seems over the top. And I'm a bit surprised Ruby didn't kill Hale, since Ruby called Hale her one true weakness and we'd seen it set up previously that Hydra agents kill that weakness… it would've been fitting. Only on Agents of SHIELD does someone tell someone else they love them just to shut them up. Fitting for May and Coulson. How much they keep talking about letting Coulson die makes me think it won't happen or we'll get a bait and switch with him dying then coming back. That letting him die will be the way to save him.