Live-Action Aladdin Director Offers Update on the Sequel's Status
The director of the live-action Aladdin Guy Ritchie recently shared an update on the status of the upcoming sequel project from Disney.
---
It's been quite some time since we've heard any news on the status of the live-action Aladdin sequel, other than the fact that we actually know it's coming at one point or another. Now, after more than two years of little to no information, the first film's director (and likely sequel director), Guy Ritchie, is talking about where things stand considering the still-in-development spin-off and canceled prequel project. And fortunately for Aladdin fans, there's still progress being made!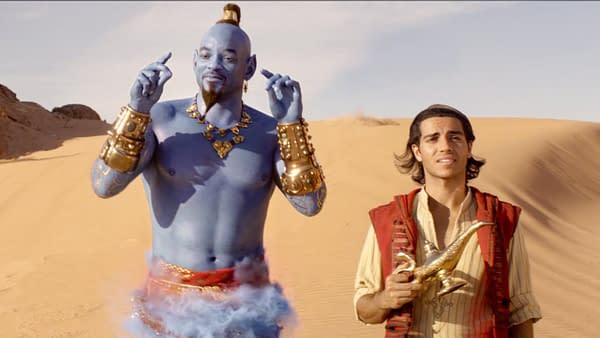 When recently talking to Collider about continuing the Aladdin legacy with a live-action sequel, the well-versed director explained to the publication, "I'd very much like to [return]. I can't tell you how much I enjoyed that experience. It was a great experience. That whole Disney thing, as you can imagine, is such a professional outfit. Just from that perspective, it was so much fun." Ritchie then reiterates his interest in returning as he confirms active sequel conversations are in place by adding, "I would very much like to; we'll wait and see. We have been kicking some ideas around for some time now, but it'd be great to do; it would be great to go back there."
What We Know About Aladdin 2 (So Far)
When the sequel was first confirmed by The Hollywood Reporter, Ritchie was already in talks to return to direct the film alongside Will Smith, Mena Massoud, and Naomi Scott, who are each expected to reprise their roles as the all-important Genie, Aladdin, and Jasmine, respectively. Aside from that, we also know that any potential sequel events will be inclined to explore uncharted territory, which at least offers audiences something different to look forward to.
Due to the live-action adaption's massive turnout that aided the film's transition into becoming a billion-dollar property, it still seems highly likely that we'll see more Aladdin soon enough – but to what extent remains unknown.
With other big-budget Disney films like The Little Mermaid and Hercules in development, do you think fans will still show up for Aladdin 2?