Aliens Abducted My Parents… Director Talks Nuanced Sci-Fi Comedy
Director Jake Van Wagoner talks to Bleeding Cool about his sci-fi romantic comedy Aliens Abducted My Parents and Now I Feel Kinda Left Out.
---
Jake Van Wagoner enjoys the many hats he wears on his projects with directing, producing, and writing. Since getting his start as a line producer in the 2013 short Reins, he's worked his way up on film and television, especially his work on Tru TV's Impractical Jokers, Brigham Young University TV shows Show Offs, and Studio C. Since his directorial feature debut in the 2017 indie Christmas Time, his follow up is the light-hearted sci-fi romantic comedy Aliens Abducted My Parents and Now I Feel Kinda Left Out. The film follows an outcast, Calvin (Jacob Buster), who's in a lifelong search for his parents he believes, as the title suggests, were taken by extraterrestrial life, and he's relying on his ingenuity to reunite with them. While branded an outcast at his high school, he meets Itsy (Emma Tremblay), a new student who takes the opportunity to know him but secretly chronicles his life for a writing opportunity. Wagoner spoke to Bleeding Cool about working with screenwriter Austin Everett, organically growing the comedy, how much Will Forte and Elizabeth Mitchell's roles tie into the film, and if he knew anyone from high school like the younger leads in the movie.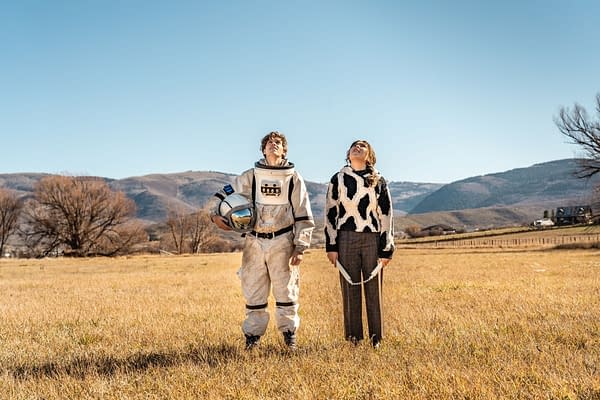 Calvin's Journey in 'Aliens Abducted My Parents and Now I Feel Kinda Left Out'
Bleeding Cool: What intrigued you about Aliens Abducted My Parents…?
Wagoner: I was looking for a movie to do that fit all my sensibilities. I'm buddies with Austin Everett, the screenwriter, so I went to him and asked, "You have anything in this genre?" He didn't. His movies are much different, but then he returned a couple of months later and said, "I do have this idea that would be up your alley." He pitched the title, and I was super excited about it. I like the kind of movie with a bunch of different elements. It has heart and humor, and it has things you can relate to. This movie was like, "I want to do this."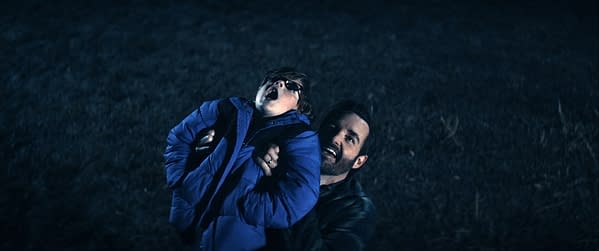 Compared to your more comedic works, the film is more of a heartwarming experience with the bonding between the two leads and issues of parenting. Did the content present its own set of challenges as far as the execution and putting Austin's script to the screen?
If you do comedy right, it's always grounded and has a little tragedy to it. As a comedian, my sensibilities were to keep everything grounded. When those humorous moments came up, we turned them up and made those moments fun. Otherwise, keep it grounded, real, and relatable. That came pretty naturally to me. I have kids; I liked this story's lesson and moral. I thought, "What would I want my kids to take away from this movie?" That helped guide me. I want them to be able to look at Itsy and be like, "That is a good lesson to learn." I want them to look at Calvin and say, "That guy is kind of weird, but he loves it. He's just like so comfortable being like that." That's what I wanted my kids to come away with and the rest of the audience as well.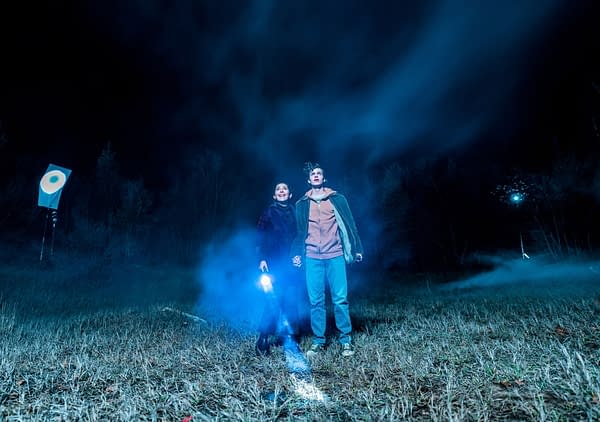 Given the limited scenes that Will and Elizabeth are in, were their plans to do more with their characters in the film, or was it due to availability to present Cyrus and Vera as they are?
The heart of the movie is Calvin and Itsy's relationship. We put more than what was originally in because we knew that once we got Will on board, we were like, "How do we maximize Will being in it without blowing our schedule up?" So we put in additional scenes with Will and the same with Elizabeth. We wrote an additional scene for her once we knew that she would do it. The movie isn't about them, even though that's the conceit of the film, but it's really about Calvin and Itsy.
Having Will and Elizabeth come on board and be a part of it was so amazing to us, but what they could do in the short amount of time that they were in the film served its purpose. They elevated it for sure, but that was always the plan. We also knew we didn't have a lot of shooting days. We didn't have a lot of time to accomplish any additional scenes. We were pretty specific about where we wanted to use them and for how long.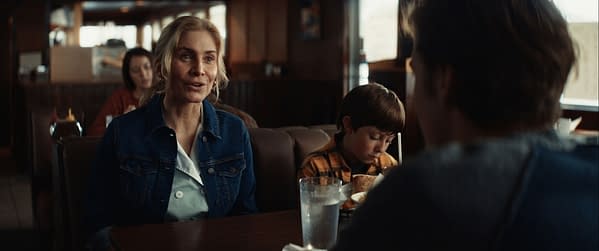 Was there anyone in high school that you knew that was kind of like Calvin, Itsy, or any of the other characters in the film?
For sure, I would look at kids growing up and be like, "That is a little bit of a weirdo," but they love it. They're so cool and confident, and even now, like, as a dad, those are the kids that I see that I'm like, "Oh my gosh! For my children, please be like this, so confident!" They may not be the most normal about everything, but that's what I'm trying to instill in my kids to look to those people and be comfortable like that person is because that's so charming and endearing. That's the way to live your life.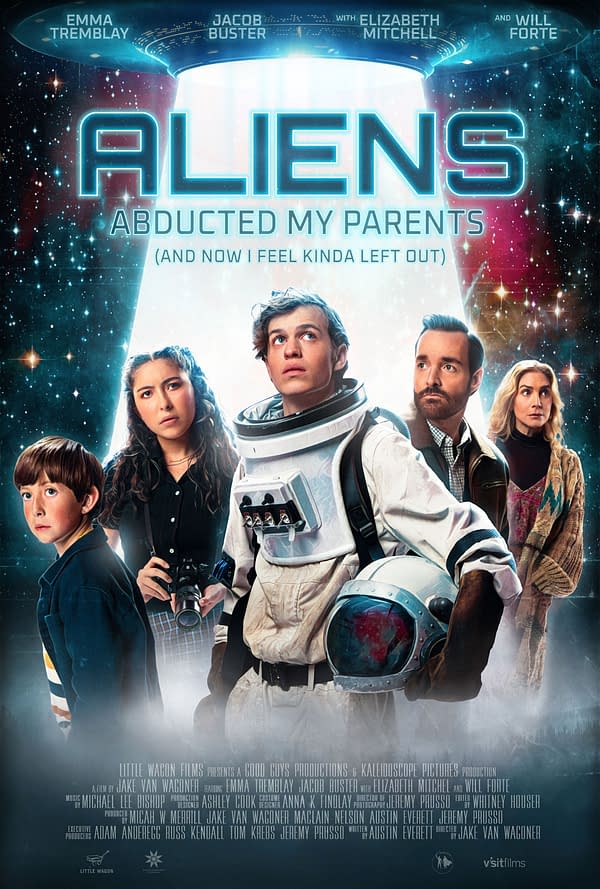 Visit Films and Jespers Comet Films' Aliens Abducted My Parents and Now I Feel Kinda Left Out also stars Matt Biedel, Hailey Smith, Landry Townsend, Kenneth Cummins, and Thomas Cummins.