Archive Trailer Promises Sci-Fi Romance With Theo James On July 10th
Archive is a wonderful looking sci-fi film coming July 10th to VOD streaming services. It was supposed to debut at SXSW this past March but didn't due to the cancellation. The film stars Theo James, Stacy Martin, Rhona Mitra, and Toby Jones, and is written and directed by Gavin Rothery. Vertical Entertainment will be releasing this one, and they should have a hit on their hands. The effects look surprisingly sharp, and the cast is super talented. Judge for yourself, however. You can see the trailer, synopsis, and poster for Archive down below.

Archive Synopsis and Poster
"2038: George Almore is working on a true human-equivalent AI. His latest prototype is almost ready. This sensitive phase is also the riskiest. Especially as he has a goal that must be hidden at all costs: being reunited with his dead wife. Archive hits VOD streaming service and On Demand on July 10th."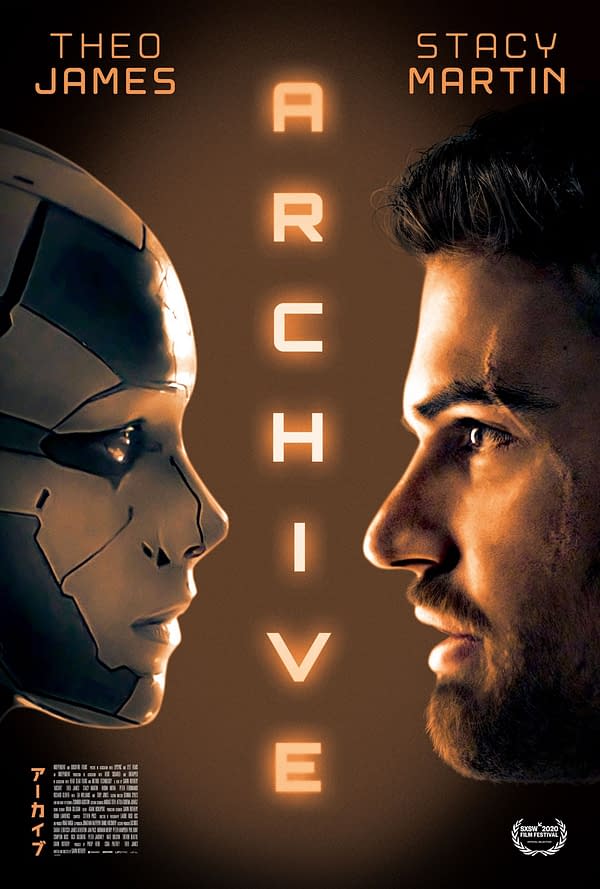 This is what I am talking about. Emotional, depressing sci-fi is my favorite type of sci-fi. Throw in a twinge of action, and you have me. Theo James doesn't act enough; I really enjoyed him in those otherwise not very good Divergent films a few years ago. A movie like these needs an actor like him in the lead, someone who can sell the emotional beats without drifting over into overreaction and cartoonishness. I was super impressed by the quality of the effects in the trailer as well; the look of the artificial being is most important. Vertical Entertainment has been taking some big swings this year, and are becoming a place to put these offbeat, mid-budget films. Archive looks to continue their current hot streak when it hits streaming and on-demand on July 10th.