As a longtime Star Trek: Deep Space Nine fan, this has been a super surreal week of work interviews, readers. Seriously. You can kind of sort of get the impression of fulfilling a fangirl's dream when I got to speak with Nana Visitor, who played Major Kira Nerys on the third live-action Star Trek series (which you can read here), and it sort of just kept going with my talk with Armin Shimerman, who played Ferengi bartender Quark on the series.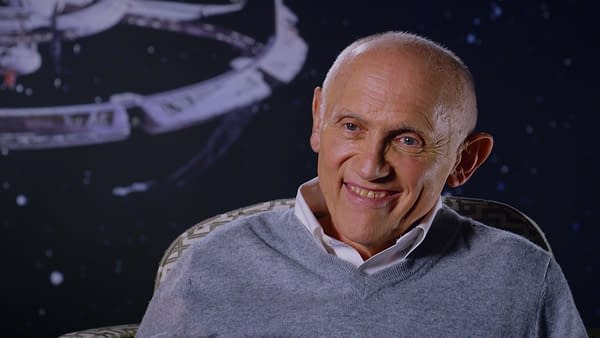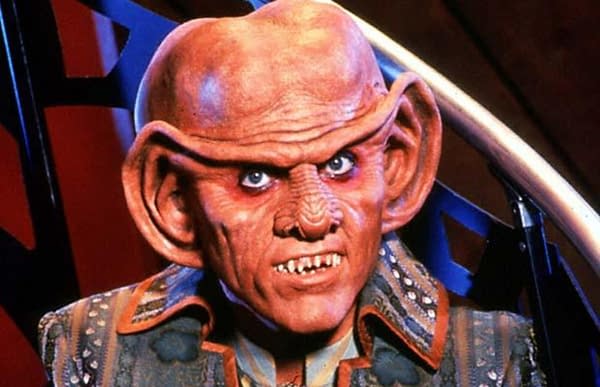 The DS9 family granted some interviews to chat about the upcoming long-gestating documentary, What We Left Behind, which will have a theatrical release on Monday May 13th thanks to Fathom Events and SHOUT! Studios, the latter holding the worldwide distribution rights for the incredible doc.
[This interview has been edited for clarity, and attempts to lessen the fangirl reactions.]
Mab: This documentary has been a long time in the making. What was it like for you personally to go back into the room to talk about this wonderful TV series?
Armin: It was great, but I don't think we can say it was primarily about us all sitting around a table and swapping stories. We were pretty much interviewed individually, but there is that sequence where we were all brought together, in Vegas actually- that was very interesting. It was one thing to do one-on-one, it was another thing to be part of a group, and hear what the group had to say. Immensely educational.
But one of the great things about Star Trek is we get to do a lot of conventions, so it's not like we haven't seen each other over the 20 years. We see each other maybe twice a year, but it was interesting to hear what everyone had to say about this.
There is a moment in the documentary where Terry [Farrell, who played Jadzia Dax] confesses to Ira [Stephen Behr, showrunner] her feelings about something that had been done to her. That story, I hadn't heard, and it was moving and very educational.
Mab: I was going to ask about that moment actually, if her reveal had come as such a shock as it seemed to in watching it play out in the footage.
Armin: Terry and I were pretty close during the show, and I was aware of her feelings being hurt, but not to the extent that I heard it that day in Las Vegas. For some of us it was a family, a dysfunctional family, but what family isn't. I knew some of her concerns. I tended to be, if I can say so myself, the counselor. And maybe it was because I manned the bar, people tended to come to me and tell me what they honestly felt about things. I think it was a shock to Ira, to me as well, but not as much as it was to Ira.
Mab: How much of you, Armin, do we see in Quark thought the show?
Armin: An excellent question- let me see if I can answer that. I think there is a little bit of both. Certainly, Armin played Quark, so there is a lot of Armin in Quark, but the opposite is true as well. As the years went by, I began to see how much Quark was in Armin. That things I had to do as Quark became part and parcel of my own personality. For instance- I became much more social, more talkative, more eager to hear people's stories. That was something the character taught me, to appreciate not only other people, but to appreciate myself. I'm grateful to Quark for that.
Mab: He was certainly such a wonderful character to get to know over the 7 seasons. I've always wanted to say thank you for all the work you put into bringing him to life for us.
Armin: Thank you. I was always the Star Trek geek in the cast. So the idea, as you can imagine, the idea that I was actually ON a Star Trek show, was heaven. It was an absolute dream come true. I will always be grateful to Berman [Rick Berman] and Piller [Michael Piller] for giving me the opportunity.
Mab: You spent so much time in that Ferengi makeup, what was it like to be humanoid in "Far Behind The Stars", that wonderful and magical episode.
Armin: Oh it is indeed, and perhaps my favorite episode. Not because I was out of makeup, but because of the brilliance of the writers and the director. It was disorienting. Not for me, I was used to not being in makeup, but what I found during that week was most of the people who dealt with me- props, camera, lights, – though they had seen me plenty of times at parties out of makeup, they had a problem with Armin on the set NOT being in makeup. As if suddenly the opposite were true, that I'd suddenly shown up in a mask. For me, the days were a little easier, i didn't have to come in as early or stay as long. I didn't have to deal with the heat, the sweat, the confinement of the makeup. My wife, who's a brilliant lady, gave me a great piece of advice- "if you want to be a knight, you have to wear the armor," knowing what a big Star Trek fan I was and how happy I was to be a part of it.
Mab: How did you feel about the season 8 pitch in the documentary?
Armin: There wasn't a lot mentioned about what it is we'd see Quark do, but I'd trust the writers that they would have found more. There were things mentioned that shocked me, surprised me, and even disappointed me. But if you're going ot ask me WHAT disappointed me, I will not answer that one.
Mab: If there is one thing you could tell someone just coming to the series for the first time, what would you say?
Armin: I would tell them it's about hope, about family. It's about working out our problems. This was absolutely original for Star Trek- it's about dysfunctional people. We're not heroes, yes we can do heroic things, but we're basically just humans with our flaws and foibles and fortés. And it's about people dealing in extremity. Yes, there a lot of programs that deal with that now, but back then, it was relatively new, and certainly brand new for Star Trek.
Mab: What if there was the opportunity, with all the new CBS All Access Trek shows, to bring either you as an actor or Quark as a character into one of the new properties?
Armin: If I wasn't a series regular, I would jump at the opportunity. I would be ecstatic to stand in Quark's shoes again, I would love that. And I hope that may come true. Anything can happen in Star Trek.
I had the opportunity last summer in England, to go back into the Quark makeup. Ira was there, and he stared at me, and said "you look EXACTLY the same." Granted, Armin doesn't look the same, but our makeup artist retrieved the two main pieces of the makeup and she did an exquisite job. So, it's possible, that Quark would look exactly the same. I'm still the Star Trek geek, and I would JUMP at the opportunity.
***
Thank you again x1000000 to Shout for organizing the interview, and to Mr. Shimerman for his time.
What We Left Behind hits theaters for one night only on Monday May 13th through Fathom Events.
Enjoyed this article? Share it!