Arrow May Address Black Lives Matter / Police Brutality And Racial Questions Have Already Started
Last season Arrow got a political in addressing the issue of gun control in an episode called Spectre of the Gun. It was an incredibly balanced and well written episode that address the issue from both sides rather than trying to make a point one way or the other. It was more about starting a discussion than ending one. I reviewed it here at the time. Executive producer Marc Guggenheim spoke to Collider about plans to possibly address another political issue in the new season, Black Lives Matter and their protests against police brutality.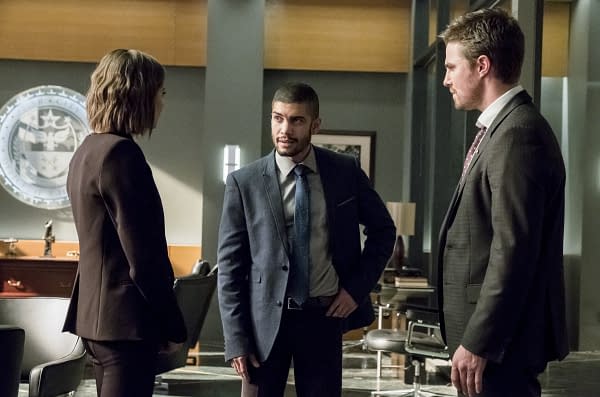 There have been no specifics given about how the show will address the issue, but if Spectre of the Gun was any indication, they will likely try to show both sides from various characters points of view and do so without trying to say which is right or wrong, but rather start the discussion. There is also no hint to whether they would use the Black Lives Matter saying or come up with one of their own. But this issue may be more heated than gun violence/control.
Joseph P. Illidge, senior editor at Lions Forge/Catalyst Prime, former editor for DC Comics and Milestone, tweeted out to Guggenheim, asking if there were Black writers in the Arrow writer's room to help engage in the topic. Guggenheim replied that they will be bringing someone in. That has lead to responses asking why there are no Black writers on staff and pointing out that Black Lives Matter is more than just a 'hot topic' issue.
Comics and television have always been a good avenue for addressing political issues and drawing attention to topics that need it. While I expected a very one-sided approach to gun violence/control, the writers came up with a balanced episode, not condemning either side, but opening up thoughts for discussion. It's something that they might be able to do with the BLM/Police Brutality issue if given the opportunity. It's a topic that people are so passionate about that even wanting to address it might get tempers raised.