Arrow Season 6, Episode 22 Recap: The Ties that Bind
This article contains spoilers for Arrow season 6, episode 22, 'The Ties that Bind'.
.
.
.
.
.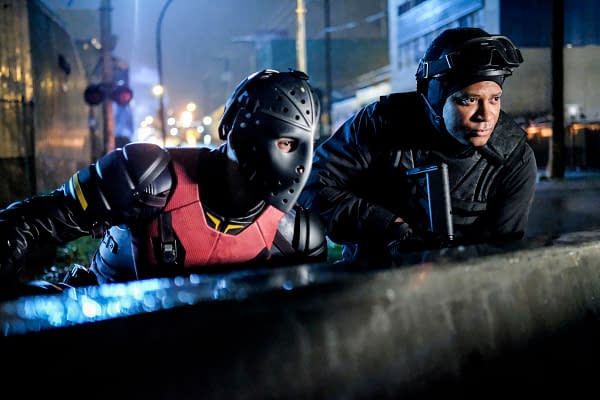 We have reached the penultimate episode of Arrow season 6 — the one they always name after a Bruce Springsteen song — and this one is no different: 'The Ties that Bind'. The episode starts quietly as Oliver (Stephen Amell) is trying to have a normal night at home with Felicity (Emily Bett Rickards) and William (Jack Moore). Diggle (David Ramsey) and Lyla (Audrey Marie Anderson) are at a doctor's appointment, Curtis (Echo Kellum) is showing off his work to Nick (Evan Roderick), Rene (Rick Gonzalez) is watching hockey with his daughter, and Dinah (Juliana Harkavy) is out on the streets as Black Canary. But Ricardo "The Dragon" Diaz (Kirk Acevedo) is angry and has decided to just kill Oliver and everyone he loves.
Luckily Anatoly (David Nykl) gives Oliver the heads up just before armed men bust through the windows. They attack everyone, and while most of the heroes are able to save themselves, Nick is wounded and needs surgery. Everyone except Curtis meets up at the recruits bunker and watches through security cams as Oliver's Bunker is destroyed by Diaz's men. They put their differences aside to work together to stop Diaz, and Oliver convinces them to hold up and let him try to get intel from Anatoly before running off and attacking — because Diaz has an army.
Lydia Cassamento (Gina Ravera) from the Quardant is in town and isn't happy about Diaz's new approach. After talking with Oliver, Anatoly convinces Diaz that he would be safer at police headquarters. While he is moving, Team Arrow strikes and almost gets Diaz, but he runs. Curtis gives chase and they fight. Diaz gets the upper hand, but his necklace goes flying. He stabs Curtis but is so focused on getting his necklace back that it isn't a killing blow. Diaz gets away, and Curtis is taken to the hospital.
Felicity figures out that the necklace is a memory stick that must have important data on it if Diaz was that obsessed with getting it back. They decide Lyla will go into police headquarters and put a sniffer out that will copy the data on the necklace. Meanwhile, Diaz is pissed that Team Arrow knew where he was. He accuses Anatoly, but the former Bratva captain shifts blame onto Cassamento, and Diaz ends up killing her. Diaz goes to check on the necklace to make sure that the data is safe when the tech sees someone is copying it, and Lyla is in trouble. The team moves in along with Felicity — Oliver wasn't happy that she was there in the first place and has to save her from Diaz. They get out with the copied data.
Back at the base, Felicity starts to hack the data, but it's a one-time thing. If they fail, it's gone forever. But Diaz's tech guy figures out how to trace the sniffer and discovers the base location. Diaz sends everyone he has and launches in gas. The team evacuates, fighting their way out. Felicity and Oliver stay as long as they can, but they have to leave before the file can finish. The entire place was rigged to blow up, so they escape, and they think they got Diaz in the blast. They regroup at ARGUS. Lyla had sent a team in, but Diaz wasn't found. Oliver has one last play he can make.
Back at police headquarters, the other two members of the Quadrant show up. Diaz makes a power grab, killing another and then getting the last to serve him. And then we have the final moment that could change everything as Oliver tells everything to FBI Agent Samanda Watson (Sydelle Noel), who asks him if he knows all this because he was Mayor or because he is the Green Arrow. She agrees to help on two conditions — the first being he admits to being the Green Arrow… and the second we don't get to hear.
The Verdict
The episode was fast-paced action all the way through, with a few family moments. Diaz is about as ruthless a killer as you can get without any hesitation to kill anyone. While his plan drove the team apart, his actions pulled them back together. And now with one episode to go, there is a final showdown coming.
But what may be the most interesting part of the episode could be that last minute when Watson said she had two conditions. This is just speculation, but the second condition could be the setup for next season. If they are going to do their version of Escape from Supermax, it would make a lot of sense for the series if Oliver agrees to go to prison to find out if there is corruption inside, which was part of the story in the film script. We saw that Oliver wants an endgame that gets him a normal life — if Watson promises him freedom in exchange for cleaning up the prison, he would probably take it. But again, speculation. Watson may just want archery lessons or something.
Next week is the season finale.
https://youtu.be/4PJ-WEwiQzg