Avatar: The Way of Water Trailer Highlights Neytiri & Jake's Family
As we're a little more than a month away from the release of Avatar: The Way of Water, the long-awaited sequel to the 2009 James Cameron film. Set more than a decade after the events of the first film, "Avatar: The Way of Water" begins to tell the story of the Sully family (Jake, Neytiri, and their kids), the trouble that follows them, the lengths they go to keep each other safe, the battles they fight to stay alive, and the tragedies they endure. In preparation for the upcoming release scheduled for December 16th, Disney and 20th Century Studios pulled the 2009 film from Disney+ rotation for a limited Ultra 4K release in theaters.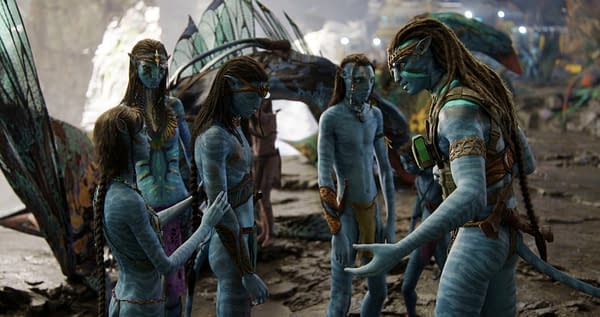 Avatar: The Way of Water Trailer Features Sully Family
The latest trailer reintroduces Jake (Sam Worthington) and Neytiri (Zoe Saldaña) at their home in Pandora and their children: Neteyam (Jamie Flatters), Lo'ak (Britain Dalton), Tuktirey (Trinity Bliss) and Kiri (Sigourney Weaver). During the events of 2009's Avatar, Jake went sent to infiltrate the Na'vi, Pandora humanoid inhabitants as the military mine the planet's invaluable resources. Technology allowed humans to transfer their minds to Na'vi bodies. At the end of the film, Jake was able to transfer his mind permanently to his Na'vi counterpart. Weaver plays the new role of Kiri in The Way of Water after playing Dr. Grace Augustine in the original, working with Jake on the program before getting killed during the Na'vi-human war.
Also returning are Stephen Lang, Joel David Moore, CCH Pounder, and Giovanni Ribisi. Joining them are Kate Winslet, Michelle Yeoh, Jermaine Clement, Oona Chaplin, and Edie Falco. Directed by Cameron and produced by Cameron and Jon Landau for Lightstorm Entertainment. Cameron, Rick Jaffa, and Amanda Silver wrote the screenplay with additional story from Josh Friedman & Shane Salerno. David Valdes and Richard Baneham serve as the film's executive producers. Check out our interview with Lang here.