Avengers: Chris Evans, Robert Downey Jr Praise Boy Hero Saving Sister
For someone who's retired (for now) from the role of Captain America, Chris Evans remains the living embodiment of Steve Rogers, recognizing the heroic actions of a 6-year-old boy. Bridger Walker saved his younger sister from a dog attack. Bridger's aunt Nicole Noel Walker shared the video and her nephew's story on social media, reaching out to the cast of The Avengers for support. Bridger required 90 stitches following the struggle. "After getting bit several times on the face and head, he grabbed his sister's hand and ran with her to keep her safe. He later said, 'If someone had to die, I thought it should be me,'" she said. "After receiving 90 stitches (give or take) from a skilled plastic surgeon, he's finally resting at home. We love our brave boy and want all the other superheroes to know about this latest hero who joined their ranks."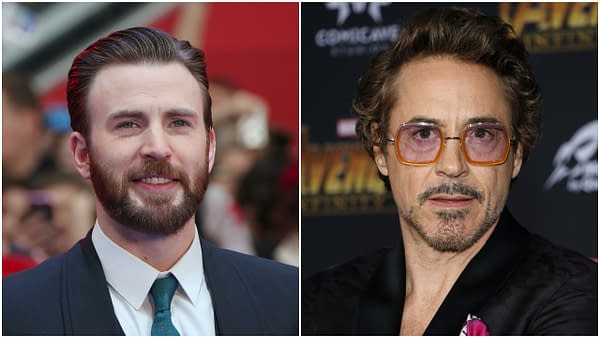 Avengers Assembled with DC Help from Arrow and The Flash
Evans awarded the kid with an authentic Captain America shield…well as authentic as the comic company can pass for vibranium. "I'm sure you've heard this a lot over the last couple of the days, but let me be the next one to tell you: Pal, you're a hero," Evans said via Instagram. "What you did was so brave, so selfless, your sister is so lucky to have you as a big brother. Your parents must be so proud of you. Keep being the man you are; we need people like you. Hang in there, I know recovery might be tough, but based on what I've seen, I don't think there's much that can slow you down."
Iron Man star Robert Downey Jr also posted a video response as someone who knows anything about noble sacrifices in the most Tony Stark way possible. "Bridger, you're a rock star," he said. "My name is Robert Downey Jr, and I play Tony, a friend of Caps. I hear he sent a shield your way. I'll do one better. You call me on your next birthday. I got something special for ya, late. And by the way, that's a promise, and that's better than a shield." Others from the world of Marvel and DC joined in to praise Bridger were Mark Ruffalo (MCU's The Incredible Hulk/Bruce Banner), Chris Hemsworth (MCU's Thor) Brie Larson (MCU's Captain Marvel/Carol Danvers), Tom Holland (MCU/Sony's Spider-Man/Peter Parker), Robbie Amell (DC on the CW's Green Arrow/Oliver Queen), and Grant Gustin(DC on the CW's The Flash/Barry Allen). You can see the original Instagram message posted by Nicole below.