There's a ton of new information about Avengers: Infinity War breaking today from Entertainment Weekly. The first person we're looking into is the one that started it all: Tony Stark aka Iron Man, played by Robert Downey Jr. It's still kind of amazing to think just ten years ago this casting was considering extremely risky, considering Downey Jr.'s past. It's incredible to look back at how well it all worked out ten years later. In this interview, Entertainment Weekly talks to Downey Jr. about where the character is going. If you go by the last several movies, that could mean he's trying to get out of the hero game.
Well, let's compare him to me. If I was going to not be playing Tony for the next 10 years, I wouldn't be doing it with no plan of what I would do instead. I don't think Tony is idle, I think he is wondering … Look, when he tried to make a suit of armor around the world [in Avengers: Age of Ultron], that didn't pan out so well. Now I think his goals are smaller.
Tony nearly destroyed the world in Avengers: Age of Ultron which helped trigger the events of Captain America: Civil War. It seems like whenever Tony tries to save the world it backfires on him. So he's scaling down his focus a little.
My favorite part of Iron Man 3 is [director Shane Black's] whole idea that he's a tinkerer. So the nice thing is that there just happened to be 40 other suits he'd been playing with that all came into Act 3.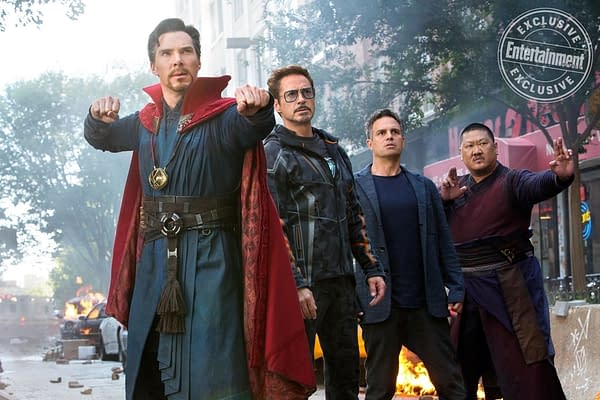 We saw some of that smaller focus in Spider-Man: Homecoming and his actions of "make sure we aren't hurting anyone" in Captain America: Civil War. When asked how Tony fits in if his suits do the heavy lifting now without him, it sounds like it's going to be trying to be a essentially a dad supporting kids. Or maybe supporting the next generation of Avengers.
I always feel bad for guys who still haven't gotten their relationship together or procreated, and they're looking at the back nine. Because you kind of go, like, are you going to be that Dad? [With a kid] who people are wondering if your grandpa came to the soccer game? So I think there's probably some of that going on.
We haven't seen a lot of Pepper in the recent movies. In Captain America: Civil War we saw that they broke up, but they got back together by the end of Spider-Man: Homecoming. Downey Jr. is very invested in the Tony and Pepper dynamic because he believes it's the heart of the Iron Man story.
It was hard to thread Pepper through every story that Tony was in, so we took opportunities to say, "We're taking a break, and it's my fault." [Laughs] Now, he and Pepper have kind of locked it up. We were talking about them living in some eco-lodge together, but then we thought, "Eh, any time they move somewhere [villains] just blow it up, so no one's gonna believe that it'll stay long." … Pepper remains the heart of the [Iron Man] story. I think we wanted to get back to that reality. Not just for them, but let's really see how that can add to the something-worth-fighting-for of it all.
So it sounds like that relationship dynamic could play a bigger role than we thought. There are a lot of people wondering what's going to happen to Pepper and Tony in this movie. Will one of them die? There is a shot of Tony looking crushed in the trailer and there are only a few people that could cause that sort of reaction from him.
Summary: As the Avengers and their allies have continued to protect the world from threats too large for any one hero to handle, a new danger has emerged from the cosmic shadows: Thanos. A despot of intergalactic infamy, his goal is to collect all six Infinity Stones, artifacts of unimaginable power, and use them to inflict his twisted will on all of reality. Everything the Avengers have fought for has led up to this moment – the fate of Earth and existence itself has never been more uncertain.
Avengers: Infinity War, directed by Anthony and Joe Russo, stars Robert Downey Jr., Josh Brolin, Mark Ruffalo, Tom Hiddleston, Chris Evans, Chris Hemsworth, Jeremy Renner, Chris Pratt, Elizabeth Olsen, Sebastian Stan, Benedict Cumberbatch, Paul Bettany, Chadwick Boseman, Benedict Wong, Zoe Saldana, Karen Gillan, Vin Diesel, Dave Bautista, Pom Klementieff, Scarlett Johansson, Don Cheadle, Tom Holland, Bradley Cooper, Sean Gunn, and Anthony Mackie. It will be released on April 27th.
Enjoyed this article? Share it!