Bear McCreary Talks Composing for 'Godzilla: King of the Monsters'
We can safely say the San Diego Comic-Con (SDCC) trailer reveal for Godzilla: King of the Monsters had perhaps the biggest audience response out of anything shown during the Warner Bros. presentation. It's not hard to see why, as the trailer not only conveys a sense of the large-scale (ha, lizard, scale) destruction we'll be seeing, but also the reveal of just how many monsters we're getting.
Oh, and the music. Have we mentioned the music? The berceuse of DeBussy's "Claire de Lune" in the trailer was composed by Michael Afanasyev for Imagine Music, and it really does set the tone of a very different monster movie. It also whetted the appetite of every film score fan in the audience for the news that came shortly there after.
Following the trailer reveal (practically bringing down the house), director Michael Dougherty and some of the cast came out on stage to the strains of a rather rockin' rendition of Blue Oyster Cult's "Godzilla". This immediately got my attention (how great would it be to have that song featured in this new film?), especially with Dougherty's reveal of who was writing the score.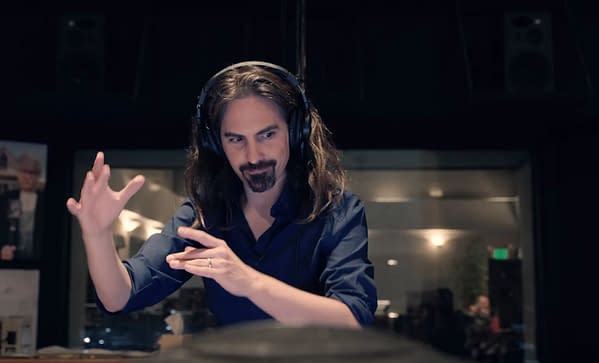 Turns out that Emmy-winning prolific composer Bear McCreary (Outlander, The Walking Dead, Battlestar Galactica, Colossal, 10 Cloverfield Lane, "God of War" just to name a few projects) is tackling the King of Monsters.
He'd been teasing for the last year that there was another big project coming after the hustle and bustle of "God of War" for Santa Monica Studios, and it's a safe bet that Godzilla was at least part of that.
We reached out to McCreary to ask how he came to be involved with the film, and if there was anything he could tease fans with about it:
I've known Michael Dougherty for a long time, as we both run in the same film-nerd circles. I have always appreciated his love of film music, chatting with him for hours on end over the years about the scores we both love. I was thrilled for him when he landed the gig to direct "Godzilla," because I knew what it meant to him.

When he later asked me to join the project, I was overwhelmed with excitement, and awe, grateful for the chance to join him in contributing to the legacy of our favorite monster.

We knew from the beginning that we wanted to incorporate classic [Akira] Ifukube themes, and yet I think fans will be excited to hear how they have evolved. There are some fun surprises in store. Fitting the material and Michael's visionary film, this score is the most massive I have ever written, and I can't wait for fans to experience it!
Does this mean we'll be getting a McCreary-style Ifukube Godzilla theme?! Sure sounds like it!
Godzilla: King of the Monsters is set to roar into theaters on May 31st, 2019.