Beetlejuice Coming To 4K Blu-ray Later This Year
Beetlejuice is coming to 4K. The Tim Burton film will see its debut on 4K Blu-ray later this year, and the release looks like it will be a doozy. Not only will the film be released on disc, but there will also be a box set collector's edition that will include the movie, The Handbook For the Recently Deceased, a poster, a patch, and even some collectible chalk. Special features for the disc are not available at this time, but there is sure to be some new stuff thrown in with things released previously. Beetlejuice fans can check out the limited edition set down below.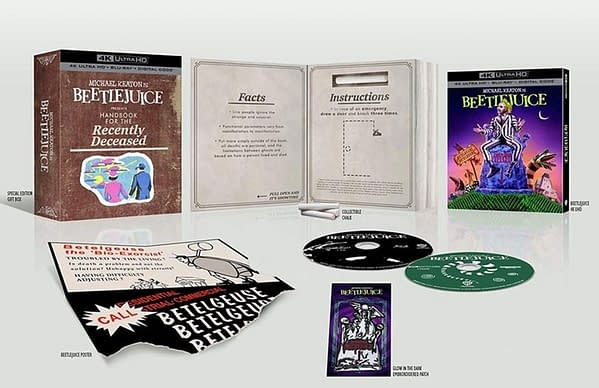 Beetlejuice: Does It Hold Up?
"Michael Keaton, Academy Award winner Geena Davis, Alex Baldwin and Winona Ryder star in director Tim Burton's comic twist on supernatural horror tales–Beetlejuice. When a couple of nice, young homebody ghosts (Baldwin and Davis) try to haunt the pretentious humans who have moved into their house, they ask for help from a demonic wraith (Keaton) they cannot control in this comic fantasy that mixes the quick and the dead with a laugh and a fright."
We had this conversation in the comic shop the other day and split down the middle. Does Beetlejuice hold up as a film? One is inclined to scoff and say, "Of course it does!" when you hear that, but the argument is there that it doesn't. Just kidding, those people are crazy. This zany film could be released today, having never come out before, and people would still fall in love with it. A lot of that is because of how awesome Beetlejuice himself is, thanks to Michael Keaton. But pretty much everything about this one is flawless, and if you don't like it, you pretty much have no soul. I bet it will look amazing on 4K as well.