Behind the Scenes with the Makers of Justice Society: World War II
Since Barry headed off at the end of Justice League: Apokolips War, WB Home Entertainment has released two movies in the DCEU, Superman: Man of Tomorrow and Batman: Soul of the Dragon. Until recently, we had not seen a vibration of the Scarlet Speedster. As it turns out, The Flash has been speeding across time to help a DC Golden Age superhero team in Justice Society: World War II. Led by Wonder Woman, the group includes Hourman, Black Canary, Hawkman, Steve Trevor, and the Golden Age Flash, Jay Garrick. The Flash quickly volunteers to assist his fellow heroes in tipping the scales of war in their favor while the team tries to figure out how to send him home. In anticipation of the April 27th VOD release, Bleeding Cool sits down with co-writers Jeremy Adams (Supernatural, Batman: Soul Of The Dragon) and Meghan Fitzmartin (Supernatural, DC Super Hero Girls) and with Director Jeff Wamester (Guardians of the Galaxy TV series) and Supervising Producer Butch Lukic (Superman: Man of Tomorrow, Constantine: City of Demons) to share a few quick thoughts about putting together this action-packed World War II thriller.
BLEEDING COOL: You worked together before on Supernatural, now you are teaming up again to craft this script featuring a lot of action and a lot of heart. I am thinking of the scenes with Barry and Iris and especially with Wonder Woman and Steve Trevor, with Steve forever asking Diana to marry him. Moments like that add such a fine detail that really makes the story sing. Can you discuss the process of splitting up the scriptwriting? Is it as easy as Jeremy handles the action and Meghan writes the emotion?
FITZMARTIN: No. Actually, if anything, Jeremy wanted to write more of the emotion. I want everyone to be as sad as possible, and Jeremy wants everybody to be in love. We had to sort of, like, do a hard cut in the middle where I'd be like, "guys, I want them to be so sad," and he was like, no no, they have to be somewhat happy here; otherwise, it doesn't sync…. I like to sort of set things up for him to knock down emotionally. It was great. It was a really wonderful experience.
ADAMS: Meghan is much more the emotion heavy individual, and I'm much more into action and romance. You know? I think we both have degrees. So I think the fact that we work together I think we balance out our weaknesses and strengths with each other… and then we send it off to the geniuses at Storyboards- Butch and Jeff and those guys, and the action looks just, it is so beautiful, so artistic. It's such a level of sophistication that I wasn't even prepared for.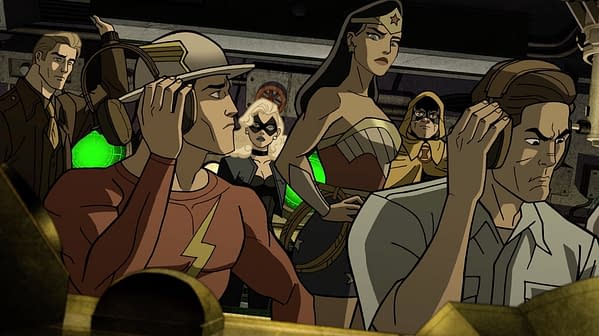 BC: Can you talk about writing for some classical Golden Age heroes such as Hawkman, Hourman, and the JSA in general?.
ADAMS: I like Hourman; I think he is kind of unusual. I love the look of his costume too. Hawkman was interesting because we wrote him, but the way that he was characterized by Wes Gleason, our amazing Voice Director, he did an incredible job with Omid (Abtahi) to kind of like, it's not the voice that I would think in my head. But now that I've heard it in kind of that subdued version of Hawkman and thinking about him as a character that has lived through multiple lifetimes. Alysia (Rotaru) is doing Black Canary, I love Black Canary, and obviously, Stana Katic (Wonder Woman) is amazing. I was kind of blown away by all that. They add a dimension of depths to those characters that really excite me as a writer. You write something, and you hope it's good, but then you have these professionals come in, and they just make you look so much better.
ADAMS: I feel like an animation writer's job is just such a collaborative art form. Our job is to create a foundation and then hand it off to these craftsmen to put up walls and electricity to make the house. I hope that what I can do is get other people excited about what they do, and if they're excited, it's going to be great. If they are not excited, it's not going to be great. Part of my job is to collaborate in a way that hopefully, I'll hear what other people say, the note they have, and how we can all get excited about the project to make it the best we can.
FITZMARTIN: I think Hourman is so much easier because there is no stigma attached to Hourman as there are with other characters in the JSA. I find that that is a tightrope. You have to acknowledge and understand and also honor all the ways that people have grown up with characters and hold so tightly to these characters… ultimately, what it came down to was listening to these characters and leaning on these characters, and what story they were telling, it became so easy it didn't matter what time period I was in because I would just listen to the character and what their instincts were.
BC: Is there any one of these characters that you associate with most? Is your voice coming through anyone in particular?
FITZMARTIN: Listen, That's like asking me to choose my most favorite children, and how dare you ask me that. Wonder Woman, for sure, is one of those characters…I love her, and I love how strong she is, how much of a leader she is, how all of these walls that she has up, to lead and to feel that she needs to lead, and the interplay that she has is so good. It was so fun to write.
ADAMS: Steve Trevor- the version of the guy, is kind of aspirational. You know, I think of my grandfather, I think of people that fought in the war, the greatest generation… I love that Steve Trevor is not afraid. He is not living; he's living for now. He understands that tomorrow, he's probably the most clear-eyed person in the entire movie. He understands that tomorrow may not be here. So what are you waiting for? Obviously, that carries into Barry's story. And it's just heartbreaking near the end. I think Steve Trevor is the aspirational part of what I'd love to be.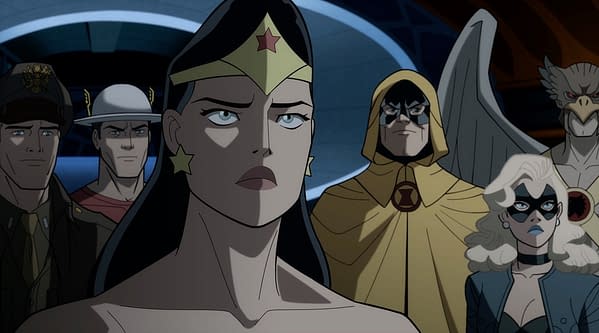 BC: What are the challenges to having such a large ensemble cast and making sure that everyone gets proper screen time?
WAMESTER: The biggest challenge with something like this is to make sure each character has a through-line. They have a beginning, middle, and end to their own story, and that story plays into the whole. I think it is super important that a charter not just show up to be a prop. You're going to lose the audience. It's going to feel cheap. It's not going to feel like a story that was thought through. Anytime you have that happen, it hurts the story. And the biggest thing is to make sure you keep track of each character's story, and they either change or don't change by the end of the story.
LUKIC: The round table part, where they are at their headquarters, is great because each one of the characters reads each other's line, and it's natural. Each one gets a piece of it. And that's how we carried it throughout the rest of the movie and before that. Each character gets a piece of the action, and you see enough to be satisfied with it. As opposed to 'I feel this character is in the background too much. I don't know who this guy is.' I think the way it worked out with this is great because all the characters really get their just desserts here.
BC: I was really taken by the sweeping story that features exquisitely choreographed action juxtaposed by heavy emotional moments, but it is the little details that separate this movie from other animated features. For example when Barry is overanalyzing the blanket placement in the park and later showing the passage of time by having sunlight play on the characters through the trees. Are these tiny details in the script, or is that the director's input?
WAMESTER: This is the director's input. Those little details are what we- when I look at – I'm always trying to reinforce either the emotion of the moment or the subtext of the moment rather than straight-up what's there. How are they feeling, and how can we use the background situation or the shot or any combination of those things to try and emphasize what the character is feeling or how the audience should be reacting. Or what kind of situation that character is in, unbeknownst to them, or sometimes known to them. Those are definitely part of what I decide to do.
LUKIC: When I get into the backgrounds, and I've already gone through with Jeff, the animation director, the animatic and storyboards when I'm doing the backgrounds, and we do the layout first, and then when I get into the painted version that's when I tell the painter 'Look, I need to add some light coming through there.' The sunlight stuff was something that I was already thinking about playing for that particular scene., coming through the trees. Subconscious storytelling.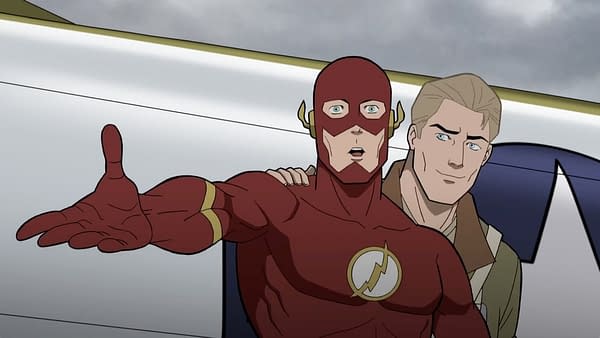 BC: The action in this movie, from Wonder Woman's entrance throwing a tank to a beautiful Flash scene where he takes down a platoon of Nazis, serves as an introduction for several of the heroes. Can you discuss the importance of seeing things from the hero's perspective?
WAMESTER: If we just did everything fast, they would kind of be separated from us a little too much. I think we have to have some stuff from their point of view. If we are not in on their world, we lose them. I think it's important we always get a peek on their world from their point of view… You have to be on some level with them and being able to experience what they experience so the audience can feel that.
LUKIC: That was partly in the script, and I wanted a really good introduction of Wonder Woman. And definitely, the whole car coming through the fire and smoke was always an element that I wanted to be written into the script, and then when it got to her doing her bit, you know, kicking ass over the Nazis throughout that whole French village sequence.
Justice Society: World War II stars Stana Katic (Castle, Absentia, A Call To Spy) as Wonder Woman, Matt Bomer (Doom Patrol, White Collar, The Boys in the Band) as Barry Allen/The Flash, Elysia Rotaru (Arrow) as Black Canary, Omid Abtahi (American Gods, The Mandalorian) as Hawkman, Chris Diamantopoulos (Red Notice, Silicon Valley, voice of Mickey Mouse) as Steve Trevor, Armen Taylor (JoJo's Bizarre Adventure: Golden Wind) as Jay Garrick/The Flash, Liam McIntyre (The Flash, Spartacus, Justice League Dark: Apokolips War) as Aquaman, and Geoff Arend (Madam Secretary, Batman: Hush) as Charles Halstead/Advisor alongside director Jeff Wamester (Guardians of the Galaxy TV series), co-screenwriters Meghan Fitzmartin (Supernatural, DC Super Hero Girls) and Jeremy Adams (Supernatural, Batman: Soul Of The Dragon), and supervising producer Butch Lukic (Superman: Man of Tomorrow, Constantine: City of Demons).
Justice Society: World War II arrives on Digital starting April 27, 2021, and on 4K Ultra HD™ Blu-ray Combo Pack and Blu-ray™ on May 11, 2021.