Triple Frontier is yet another project that has been hanging out in development hell for several years. It's been in various stages of production since 2010 with names like Tom Hanks, Channing Tatum, Johnny Depp, Mahershala Ali and Tom Hardy all attached to the project at some point during the last nine years. At one point Kathryn Bigelow was also attached to direct, which is why the producer credit for The Hurt Locker is likely there.
The movie was never able to get off of the ground though and back in May of 2017, Netflix picked up the movie from Paramount Pictures. Netflix threw some money at big names for the cast including letting star Ben Affleck walk away from the production in July 2017 for personal problems only to come back to the movie in March of 2018.
Netflix must have realized that there was a potential for this movie to do well on the big screen since they are giving it a limited theatrical release. They have released some key art of the main cast along a trailer for the movie.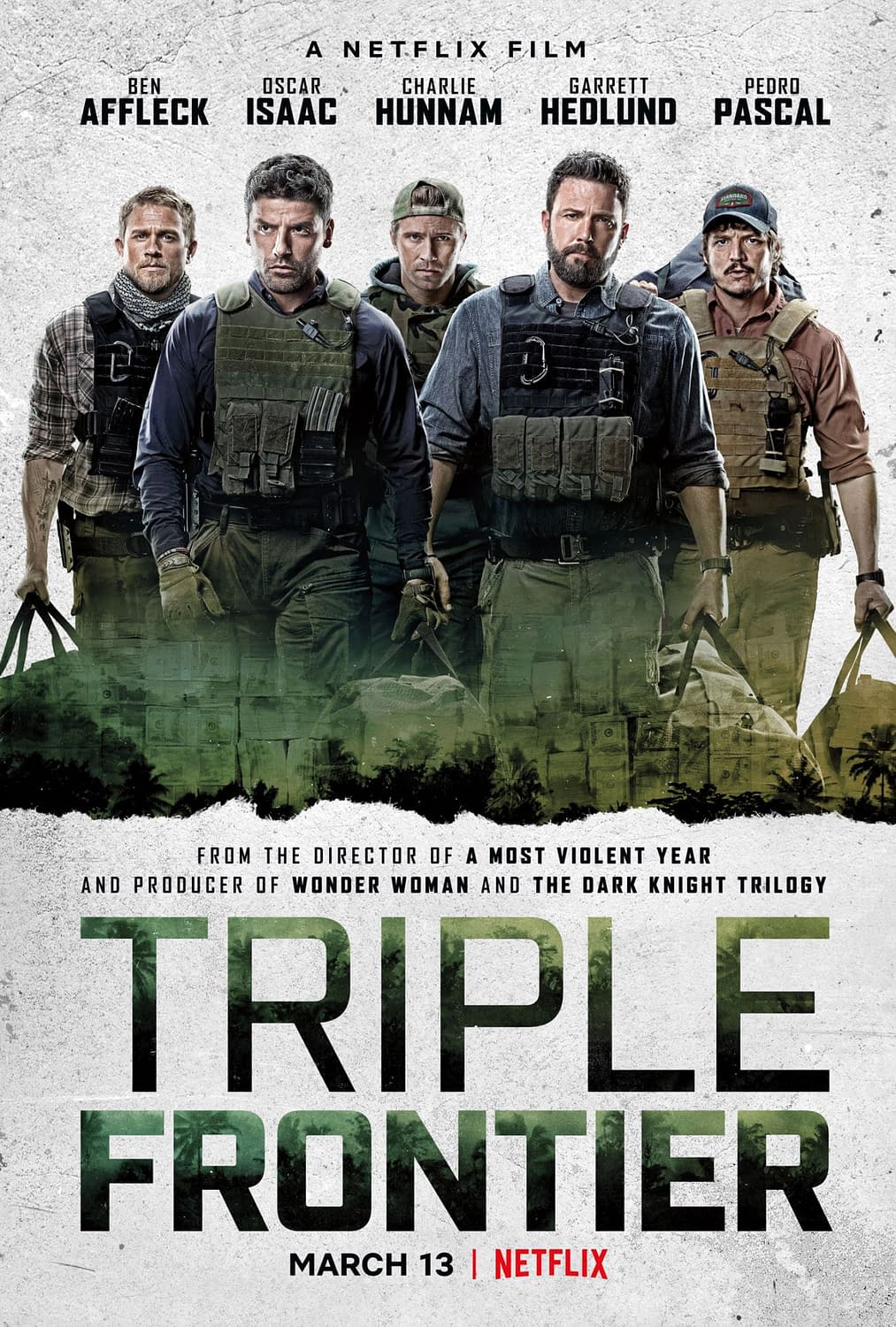 That story doesn't sound like the most original thing in the world but the cast is pretty stellar–that can make up for the lack of originality when it comes to the plot. If this is executed well, this could be something really cool and director J.C. Chandor's last movie, A Most Violent Year, is a neat little production.
Summary:A group of former Special Forces operatives reunite to plan a heist in a sparsely populated multi-border zone of South America. For the first time in their prestigious careers these unsung heroes undertake this dangerous mission for self instead of country. But when events take an unexpected turn and threaten to spiral out of control, their skills, their loyalties and their morals are pushed to a breaking point in an epic battle for survival.
Triple Frontier, directed by J.C. Chandor, stars Ben Affleck, Oscar Isaac, Charlie Hunnam, Garrett Hedlund, Pedro Pascal, and Adria Arjona. It will receive a limited theatrical release on March 6, 2019, and will stream to Netflix globally on March 13, 2019.
Enjoyed this article? Share it!