Most film fans of a certain age will no doubt always associate New Zealand actor Sam Neill as Dr. Alan Grant from Jurassic Park. This seems to be something he's embraced in recent years (not that he was every really anti-dinos) with his activities and humor on twitter.
Like his post for the 25th anniversary of Jurassic Park this year:
Our massive tribute. Spared no expense. Frances Berry a TERRIFYING velociraptor.#JurassicWorld #JurassicPark @prattprattpratt pic.twitter.com/Bqvh5A24Ta

— Sam Neill (@TwoPaddocks) June 14, 2018
We digress. When he's not busy being a farmer, a vintner (Two Paddocks wine), or circumnavigating the globe for his new NZ series Uncharted, Neill can occasionally be found as a guest at conventions. Like this past weekend at London's Showmasters event where this fabulous photo was captured.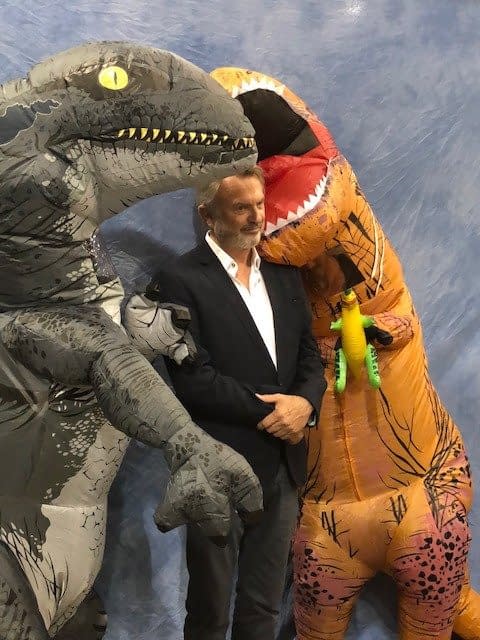 Oh well. pic.twitter.com/o0zwU33YAA

— Sam Neill (@TwoPaddocks) July 30, 2018
It's hard to tell from either his face (he's an ACTOR, after all) or the tone of his wording if this was an amused moment or a "seriously, why".
In any case, thanks for being a great sport, Sam!
Time to dust off that Merlin VHS.
Enjoyed this article? Share it!