There Is Already A Facebook Movement To Give 'Black Panther' Bad Rotten Tomatoes Reviews
In today's installment of 'what is wrong with people on the internet' and 'this is why we can't have nice things', we present the effort to give Black Panther a bad/low Rotten Tomatoes score. Blipping on the radar again is facebook group "Down With Disney's Treatment of Franchises and its Fanboys", who is behind this 'movement'.
Maybe you'll recall that recent stink where suddenly, Star Wars: The Last Jedi had a terrible score on the internet review site, and a group of fans on facebook were taking credit for it. Specifically, they were claiming to have 'farmed the reviews', creating multiple fake accounts to leave bad scores for both TLJ and for Thor: Ragnarok. RT of course said the 55% TLJ score was "completely authentic", even though evidence pointed to the opposite.
That same person or persons are at the center of a new review bombing AND spoiling the film for fans scheme, and now they're going after Black Panther. Specifically, the group is targeting "Marvel fanboys" and leveraging DC fans to also add their own negative reviews to the movie.
Here's a screenshot of the 'event' in question on fb: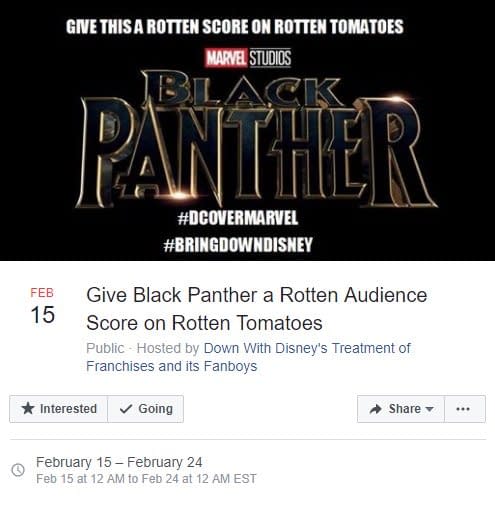 Inverse has a quote from the person who is claiming to be the leader/controller of the group, that "they're acting out against Disney's supposed efforts to shove SJW messages down our throats," adding that "minorities … should stay that way."
The group has also created events aimed at Infinity War and the upcoming Solo film, with similar plans to flood review sites with negative reviews and spoilers posted on social media.
**HOW'S THIS FOR AN AMAZING UPDATE**
Facebook has since taken down both the "Down With Disney And It's Treatment of Fanboys" page and the review bomb event.