BLACK, the Superhero Comic Where Only Black People Get Superpowers, to Be a Film Franchise from Studio 8
BLACK, the superhero comic book series by Kwanza Osajyefo, Tim Smith 3, Jamal Igle, Khary Randolph, and Sarah Litt, funded on Kickstarter and published by Black Mask Comics, is to be a new movie from Jeff Robinov's Studio 8, with Osajyefo and Tim Smith 3 as co-producers and Matteo Pizzolo of Black Mask as producer.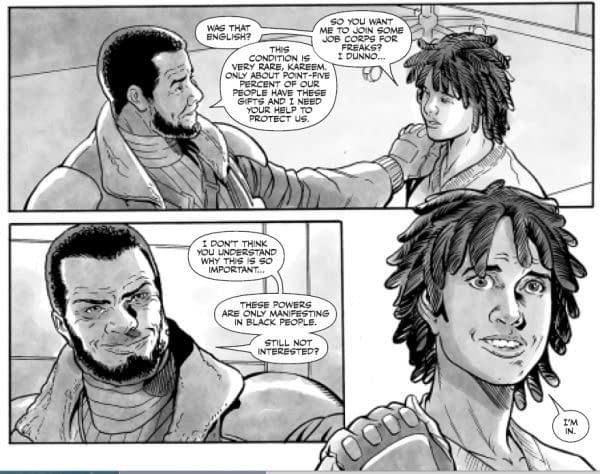 Deadline reports that Dexter and Homeland's Seith Mann will adapt the series in which only black people can exhibit superpowers as a planned movie franchise for both BLACK and its spinoff BLACK [AF]: Ameria's Sweetheart.
In 2016, Kwanza told Bleeding Cool:
"Writing BLACK is bittersweet – it should have existed earlier and how the industry works is symptomatic of how the treatment of Blacks has risen in public consciousness. Diversity is on trend, but inclusion is not – so I'm not satisfied to have the mainstream publishers tokenize their brands in a grab for the fastest-growing consumer demographic. It's time to take some ownership of the Black narrative in American entertainment, and my partners and I intend to tell a story outside the capacity of most publishers."
And the success of Black Panther earning well over a billion in gross has opened up greater possibilities for superhero films as well.
It's also been announced, as spinoff series BLACK [AF]: Widows And Orphans sees its first issue published this coming Wednesday.
This is, frankly, massive. From people who were dropped by DC Comics, who have put together a superhero comic book that has now been picked up for movie treatment and at a time that has leapfrogged DC Comics in terms of culturally relevant sensibilities is quite the thing. Congratulations, all.
Man, I'm going to check out eBay speculator sales on this thing… It might also help some of those outstanding Kickstarters to be fulfilled…