Bookies Drop Odds on Ed Sheeran Recording Theme For James Bond: No Time To Die
The odds at online bookmakers Betway reflect a dramatic shift in the betting for pop star Ed Sheeran to be signed to record the theme for No Time To Die, the 25th instalment of the James Bond movie series.
Sheeran has seen the odds of his being signed for the movie soundtrack drop from 5/1 to 7/2 before plummeting to 3/2 this morning, launching him clear of second favourite Dua Lipa at 4/1. Adele and Sam Smith remain jointly third in the running to record another Bond theme at 10/1.
Betway's Alan Alger said: "It's no secret that Ed Sheeran has been linked to recording the next James Bond theme and the latest shortening of his odds could be the next clue confirming his involvement. Though Sheeran has sat atop of the betting for some time, he was still a speculative bet at around the 5/1 mark. However, his odds have quickly dropped to just 6/4 over the last few hours suggesting an announcement might not be far away."
Bleeding Cool does like to try and following the bookies on such stories – they seem much more reliable as insiders decide to make a few quid and swing the market. the casting of Doctor Who with Matt Smith, Peter Capaldi and Jodie Whittaker were preceded with bookies swings in their favour.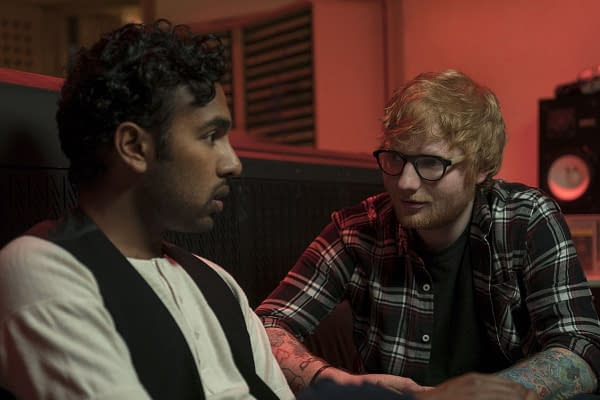 No Time to Die is to be produced by Eon Productions for Metro-Goldwyn-Mayer and Universal Pictures. The film features Daniel Craig in his fifth performance as MI6 agent James Bond. It is directed by Cary Joji Fukunaga, who co-wrote the screenplay with Scott Z. Burns and Phoebe Waller-Bridge, based on an early draft by Neal Purvis and Robert Wade. Ralph Fiennes, Naomie Harris, Ben Whishaw, Rory Kinnear, Jeffrey Wright, and Lea Seydoux reprise their respective roles from previous films, while actors Rami Malek, Ana de Armas, Lashana Lynch, David Dencik, Dali Benssalah, and Billy Magnussen round out the main cast.
Development of the film began and confirmed in 2016; Universal Pictures won the international distribution rights, while MGM and United Artists Releasing announced that they would handle the distribution rights in the United States. Danny Boyle was originally attached to direct and co-write the film with John Hodge; both left due to creative differences in August 2018. Fukunaga was announced as Boyle's replacement a month later. After Hodge's exit, Purvis and Wade, alongside Fukunaga, Burns, and Waller-Bridge wrote what became the final version of the script. The majority of the cast had signed on by April 2019.
The film is scheduled for theatrical release on 3 April 2020 in the United Kingdom and on 8 April 2020 in the United States.