Borat "Congratulates" Pence on VP Debate, Releases CPAC Clip
Following the lone 2020 Vice Presidential debate between incumbent Mike Pence and Democratic Senator Kamala Harris, the Borat official Twitter under the handle @KazakhstanGovt and the alias Republic of Kazakhastan tweeted the following "celebrating" Pence on his victory. "It a big night, Vice Pussygrabber Mikhael Pence is alone in a room with a woman who not his wife for first time in 37 years. Congratulation for crushing her just like your Premiere McDonald crushed the Covid! #vpdebate"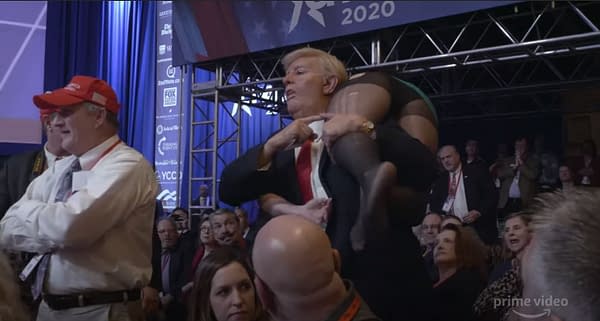 Pence has a "role" in the upcoming mockumentary sequel Borat Subsequent Moviefilm: Delivery of Prodigious Bribe to American Regime for Make Benefit Once Glorious Nation of Kazakhstan. As what is likely a climactic part of the film where the fake Kazakhstan journalist played by Sacha Baron Cohen approaches him mid-speech at the CPAC conference carrying a blonde woman on his shoulder dressed as President Donald Trump, asking him where he wants to leave her. The tweet shows the 30-sec scene in question.
The first film Borat: Cultural Learnings of America for Make Benefit Glorious Nation of Kazakhstan, released in 2006, helped establish Cohen as a bankable comedic film actor after initially introducing the character on his HBO series Da Ali G Show. The film shot him to superstardom making $262.6 million worldwide at the box office. The film reflected on the character's gonzo interviews asking awkward questions in the guise of an ignorant pronounced Eastern-European accent, fooling his subjects to hilarious results. The absurdity and randomness are reminiscent of avant-garde comedians like Andy Kaufman. Actor-comedian Zach Galifianakis would take a similar approach playing a fictionalized version of himself on his popular web series "Between Two Ferns" when interviewing his celebrity guests. Borat 2, which is directed by Jason Woliner, streams on Amazon Prime on October 23. You can check out the trailer below.