Brenton Thwaites Talks Ghosts of War and the Horror Genre
The psychological, wartime horror film hybrid titled Ghosts of War has just been released, starring Brenton Thwaites leading four other American soldiers who are sent to hold a French chateau from Nazi soldiers approaching the end of WWII. The film is helmed by The Butterfly Effect writer and director Eric Bress, making this his sophomore feature film and Thwaites return to horror after the success of the 2013 film Oculus. Thwaites recently spoke with us ahead of its official release and discussed his take on the horror genre with some insight on the multifaceted film.
Brenton Thwaites Talks About The PSTD Explored in Ghosts of War
Ghosts of War dives straight into the trenches of trauma, supernatural and even a little sci-fi inspired twist, reiterating that Bress isn't afraid to take risks with concepts he's passionate about and that Thwaites can bring required stability to a crucial role. In the film, Thwaites provides another reliable performance, taking on the part of a level-headed leader to the men — and it's something the actor has proven to excel at in his almost 10-year career. Though we've seen him defeat comic book villains in Titans and travel the uncharted in Pirates of the Caribbean, Thwaites makes it clear that from a viewer's standpoint, he's not as bold with the horror genre. Thwaites admits, "I love shooting them, but I'm a wimp. A wimp. I can't seem to get it together with horror films I just get too scared [laughs]"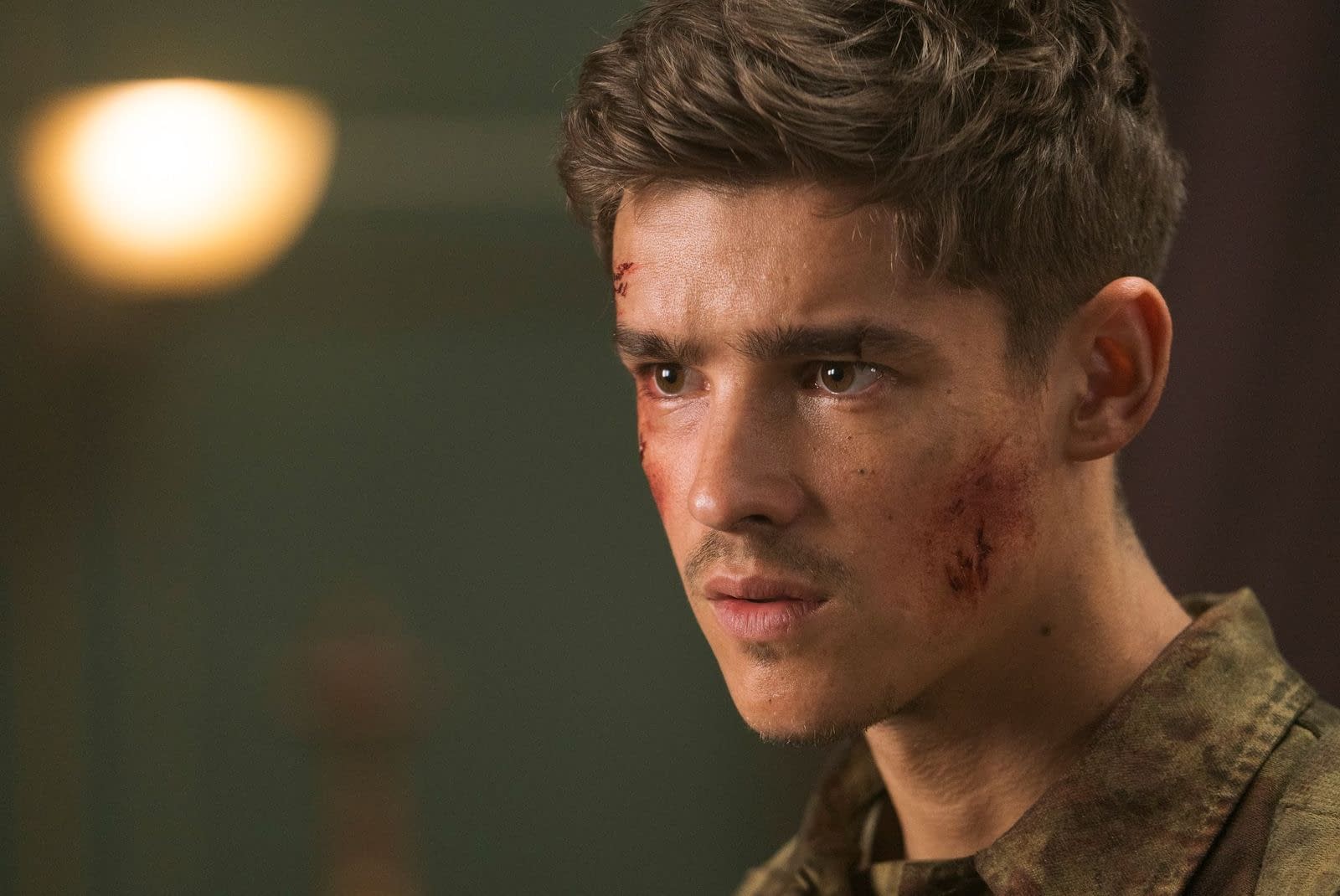 Despite that, he has managed to impress in both horror endeavors and discusses getting in the mindset for the genre, adding, "I think part of our gig as an actor is to not look like we're acting in a horror movie. Oculus and Ghosts of War both allowed me to do that a little bit. I kinda pretend we aren't doing a horror movie and let Mike [Flannagan] and Eric [Bress] determine the tone. I just do my job, which is really believing I'm in that moment."
In Ghost of War, the psychological aspect of the film centers itself around PTSD and the genuine horror attached to it. When supernatural elements are then brought into the picture, it only made Thwaites more drawn to the film. "I really think that the underlined psychological aspect of 'Am I seeing this?' The confusion between characters, them questioning what's real — to me reading that script was interesting." The actor went on to elaborate, "I wanted to see where in the material they clarified that. As an audience, we're learning alongside the film, which is a testament to Eric and his writing."
The Advantages Of Having A Writer/Director
For a film of this nature, Thwaites shared some of the differences of having one person behind the wheel. "There's a certain advantage to having a writer/director. Especially for horror or genre movies, I can see the similarities in that advantage from Oculus and Ghosts of War. The advantage is that they [the writer/director] can see the movie. That whole movie. I'm not saying others can't, but on the fly when making a movie, so many things change. So in [Ghosts of War], he's so particular about costumes, props, or sets." Thwaites then adds, "So it was good to have someone there who could improvise and discuss their own material. Eric would be able to decide 'we have to have this moment' and all those little on set intricacies that can add or subtract to a film is dialogue you have with a director — so when it's a writer, director it's a little more streamlined."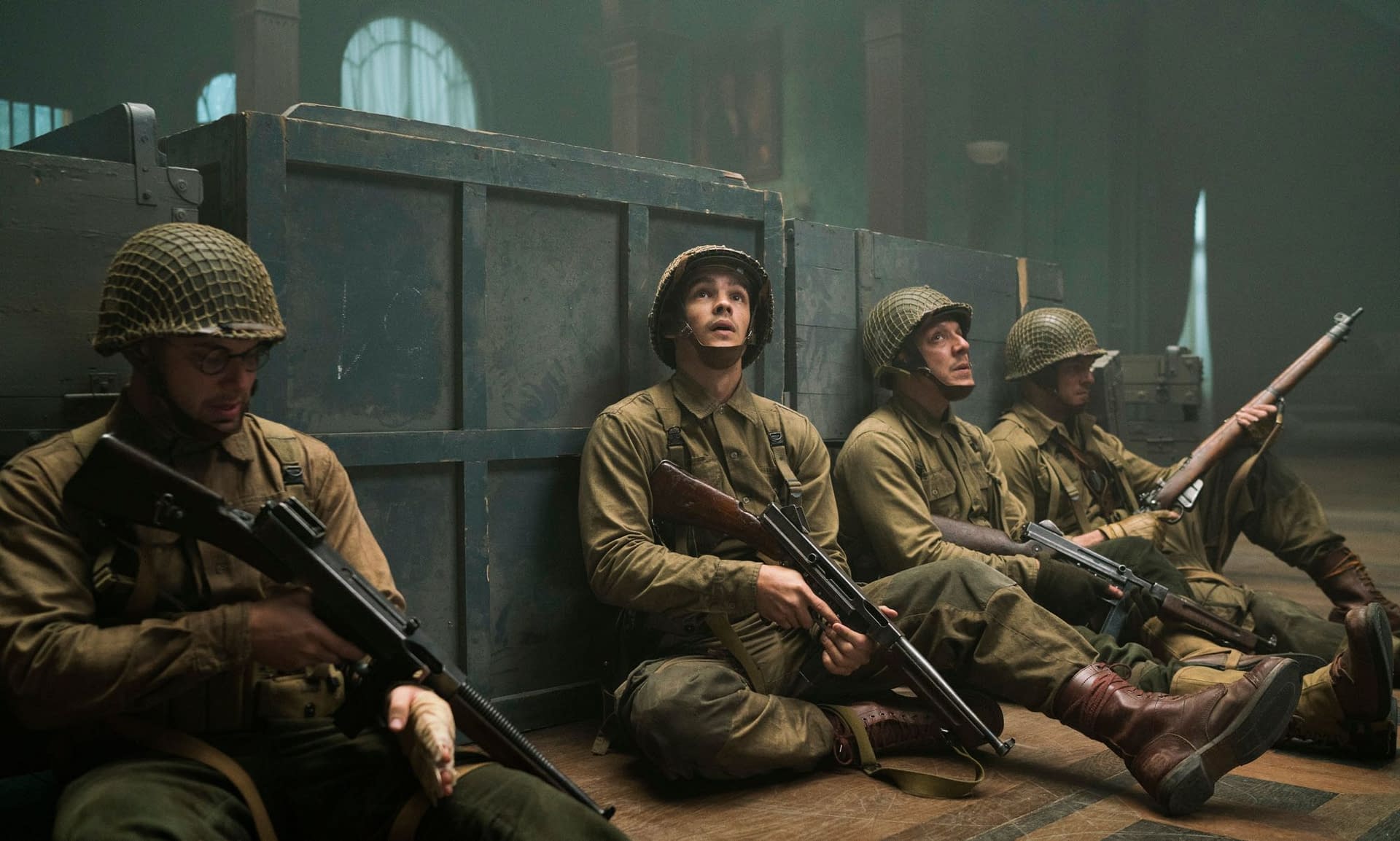 Thwaites has plenty of praise for the genre-changing journey that Bess crafted and divulged, "He kinda says to your audience, I know you feel this way about the film, but we're going to go this way now — and change thematic elements." He continued, "After Butterfly Effect, that seemed to be his style, and it drew me to the role." Aside from that first initial viewing experience, the Titans actor believes that it also makes rewatching a worthwhile experience because of plot reveals and subtleties telling us, "You begin to notice things. In speech, inanimate objects, props, and when you see it a second time, you start to see things you first overlooked. Something else that's also really cool in horror."
How Important It Is To Set The Right Tone
When it comes to the specified wartime setting, Thwaites acknowledges the importance of setting the tone but that it also doesn't necessarily need to be the driving force either. "I think it was really important to Eric to not have any unrealistic elements in that World War II story. He was adamant it would feel like a World War II drama." he continues, "Seeing these soldiers already battle-hardened by war was important to him and grounding the characters, so the audience doesn't have to work for it for the rest of the film. They can relax and know who these characters are pretty quickly."
After conversations began to suggest Thwaites was favored for the role of Chris Redfield in a potential Resident Evil film, the star has now starred in a few horror movies and has played a soldier, so he seems like a qualified candidate. Thwaites shared that he would be open to returning to horror in the future, telling us, "Oh man, I would love to. It's one of the most fun genres to shoot because there's so much creativity to it. You've got so many things that don't exist that you're creating and imposing on an audience and trying to do it in a believable way." Thwaites concludes, "As an actor, there's more to react to in horror than say a drama. There's a heightened reality, and I feel like there's more variety in the performance — I love all genres, but that's one of the most fun to shoot."
Thwaites film Ghosts of War is available to stream via virtual cinema screenings, On-Demand, and digital download starting July 17.