"Candyman": Jordan Peele, Nia DaCosta Update Will Hook You [TRAILER]
Fans of the 1992 Clive Barker original Candyman won't likely be disappointed by this 2020 spiritual sequel from Jordan Peele and director Nia DaCosta. The 2020 film takes place in the same Chicago Cabrini-Green housing projects as in the 1992 original. The difference in the 2020 film is the area undergoes gentrification. DaCosta spoke with Deadline Hollywood about the changes with the new film.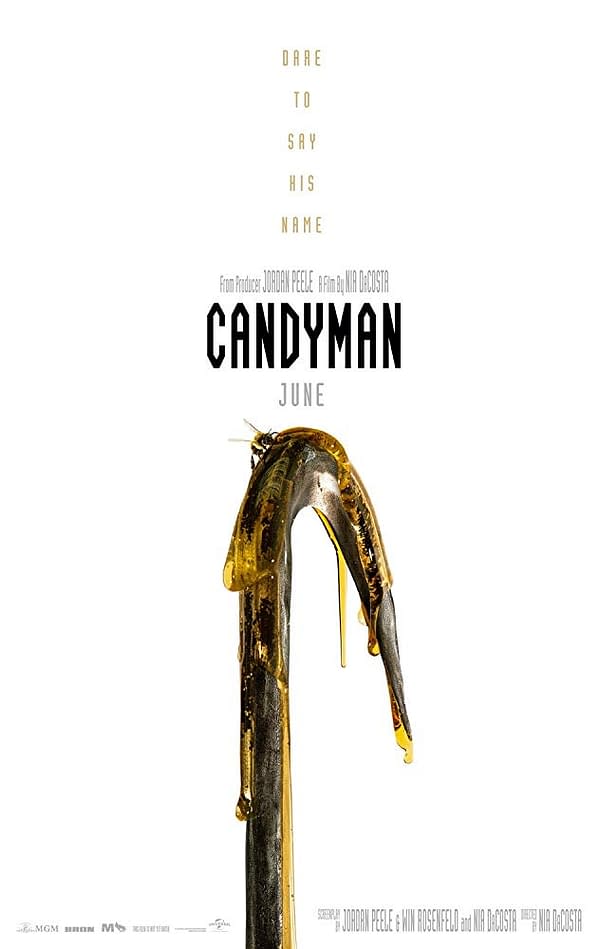 "Gentrification is what helped us to reimagine the story because Cabrini-Green is gone. The movie from the '90s has a vision of Cabrini-Green where it's sort of on its way to being knocked down. What we talk about in the film are the ghosts that have been left behind because of gentrification."
Comparing 1992 and 2020 "Candyman" Films
The trailer shows what happens when people test the urban legend by saying "Candyman" five times in front of a mirror. The monster emerges and proceeds to massacre his victims with his hook. In 1992 original, Virginia Madsen played Helen Lyle, a grad student skeptical of the legend. Her investigation leads her to witness the eviscerations first-hand as Candyman's supernatural abilities to appear at will leaves her a bloody mess framing her for his actions.
"We wanted to do what the original did: be audacious, fun but also be meaningful. I really love gore. It's something that Jordan and I talked about a lot. What's fun about working with Jordan is that our horror aesthetics are different. Jordan is really brilliant at not showing everything and my instinct is to do the exact opposite…there's a good amount of things you don't want to see."
Near the start of the 2020 trailer, we see five high school girls in a bathroom looking at the mirror and test the legend. A black student walks inside and goes into a stall. The door locks behind her as the five girls try to make their way out before the massacre begins. Because the girl in the stall didn't say his name, he spares her deep in fright. Instead of Phillip Glass' 1992 score, we get a slowed-down version of Destiny Child's "Say My Name".
1992 Story
The trailer purposely shows as little of Candyman as possible teasing glimpses of his iconic hook and bees. Peele and Win Rosenfeld wrote the screenplay. The original 1992 story followed a former slave (Tony Todd), who became an artist and fell in love with a white woman (Madsen). Her father finds out about the relationship and leads a lynch mob to murder him. They smeared him with honey and bees engulf him before his body is set on fire. After his remains scattered in Cabrini Greens, he became cursed and became the urban legend. The film spawned two sequels.
"[Todd] is iconic and what we have done with the film is…great and I don't want to give anything away."
The Universal film stars Yahya Abdul-Mateen II, Teyonah Parris, Nathan Stewart-Jarrett, Colman Domingo, and Todd.
Candyman comes to theaters on June 12. Check out the trailer below.