Hear Us Out: What If Captain Marvel Ties Into Black Panther
You know how sometimes thoughts come to you when you're in the shower, or driving, or working on a review of Blu Ray special features for Black Panther? Yeah, I know, weird. Once upon a time ago, the Marvel catchphrase during their building of the MCU phases was "It's All Connected", and while maybe it's not the big selling point now because *they* know *we* know it is, maybe we'll go back to that with an unexpected connection.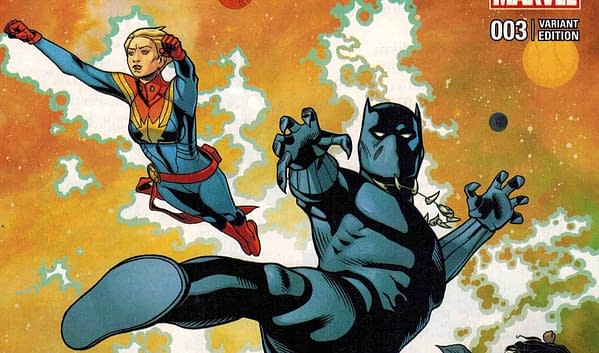 Hear me out- what if Captain Marvel ties into the opening scenes of Black Panther?
So in the opening scenes of Ryan Coogler's epic genre redefining superhero film, King T'Chaka goes to confront his brother N'Jobu in Oakland, California in 1991. Specifically, he's there to bring his brother back to Wakanda for crimes against the nation and her people, as N'Jobu facilitated the attack by Ulysses Klaw and theft of vibranium. And to be even more specific, T'Chaka mentions it was a train shipment of vibranium.
Now why in the world would that have anything to do with Captain Marvel you may ask.
We know the Anna Boden Ryan Fleck (yes, two directors because reasons) Carol Danvers film is set in the 90's, Kevin Feige himself confirming that as well as numerous synopsis(eseses) that have found their way online. We also know that the main action is supposed to be happening in California.
Okay, sure, both the Black Panther scene and Captain Marvel happening in the same decade and state doesn't mean they'll tie together BUT- pair that with a set video featuring Brie Larson as Carol Danvers on top of a train car – you can see where I'm going with this.
It would totally make sense to have these two things tie into each other, and now I'm kind of hoping it's a thing because Feige has said that T'Challa is the strongest of the Avengers, but that Captain Marvel is the 'most powerful' superhero to be introduced yet.
Pairing the two (speaking completely hypothetically here) could possibly lead into The Ultimates, and point the direction for the next phase, maybe even *gasp* the much spoken about secret title of Avengers: 4.
What do you think: likely, unlikely, maybe?
We'll find out when Captain Marvel hits theaters on March 6th 2019.