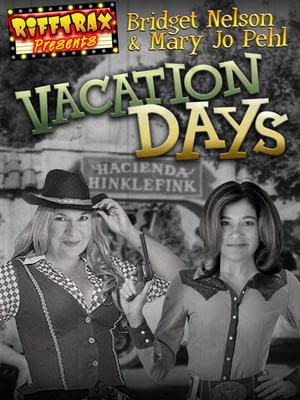 Bridget Jones Nelson is a writer and comedian known for her work on Mystery Science Theater 3000 and for the past several years as half of the RiffTrax audio commentary team Bridget & Mary Jo, where she and comedian Mary Jo Pehl riff on features, industrial shorts, often with an eye on the social lives and mores of the United States in the mid-century. Her new short is Vacation Days, a 1947 entry into a series about and called The Teen Agers.
We chatted about the curious challenges of the kinds of videos that Bridget and Mary Jo specialize in. Unlike the core RiffTrax cast of Mike Nelson, Kevin Murphy, and Bill Corbett (who in turn played Mike, Tom and Crow on the old MST3K), Bridget & Mary Jo tend to choose shorts that deal with growing up and living in America in the post-war era. We see films about decorating your house, going on dates, or purchasing appliances. The comedy is very specific: two post-modern women who know one another riff on these old artifacts. Occasionally they have to swoop in as post-modern censors, too, chatting loudly over a gag that might play as offensive by today's standards, the way the Mike, Kevin and Bill will get up and block the screen during showings of The Room during the nudity scenes.
The Teen Agers was a series of short features of the late forties, a time when the United States was just discovering—and making room for—a period of life we now accept as normal, the teen years. The stars were young (though probably not in fact teen-aged) and all fabulously talented, including dancers, singers and comedians. By today's standards they are slow and quaint, making them perfect Bridget & Mary Jo fodder. Among the young stars is Noel Neill, who would go on to star as Lois Lane in the TV series Adventures of Superman starring George Reeves.
Hosted by Jason Henderson, writer of the upcoming Young Captain Nemo: Quest for the Nautilus from Feiwel and Friends/Macmillan Children's Books, and attorney Julia Guzman of Guzman Immigration of Denver.
Listen here:
Listen on YouTube:
Check out the Trailer.
Castle Talk Podcast Links:
Join us over on Facebook to chime in.
The show is hosted here. Get our RSS Feed. Subscribe at iTunes. Listen on Stitcher. Or on YouTube.
Twitter: castleofhorrorp.
The Team: Hosted by Jason Henderson, editor of the Castle of Horror Anthology and Young Captain Nemo, and creator of the HarperTeen novel series Alex Van Helsing.
Enjoyed this article? Share it!