We have another new poster for Christopher Robin. This one gives us a nice look at the rest of the supporting cast members, but it also comes with an odd tagline. "Sooner or later, the past catches up to you"? That's what you hear when a rat in a mob movie is about to get whacked when they thought they were safe in witness protection. That is not what you expect when talking about a movie with Winnie the Pooh. That's just weird, but the characters look pretty cute.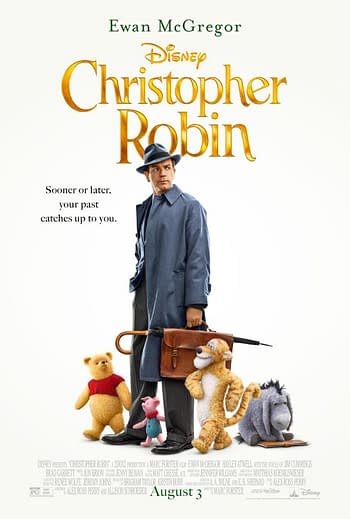 We also get a new trailer tomorrow, which is probably a good thing since no one seems to be talking about the movie and it's coming out in a little over two months.
Summary: Working-class family man Christopher Robin encounters his childhood friend Winnie-the-Pooh, who helps him to rediscover the joys of life.
Christopher Robin, directed by Marc Foster, stars Ewan McGregor, Hayley Atwell, Jim Cummings, Chris O'Dowd, Toby Jones, Peter Capaldi, and Brad Garrett. It will be released on August 3rd.
Sooner or later, the past catches up to you. 🍯 Tune in to @TheEllenShow tomorrow for the new trailer for Disney's #ChristopherRobin. pic.twitter.com/YiSM4NbmVB

— Disney (@Disney) May 24, 2018
Enjoyed this article? Share it!