David Harbour is stepping into some pretty big cloven-hoof shoes in 2019 with Hellboy, and he knows it.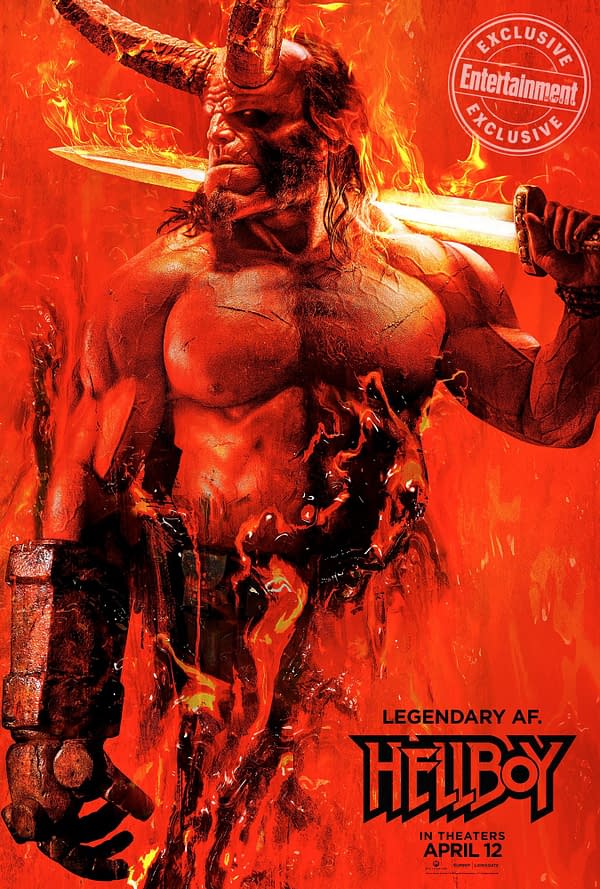 The multi award-winning actor (for his role of Sheriff Hopper on Netflix's Stranger Things) recently chatted with C|NET about several things, including why he thinks Big Red is a little bit Hamlet, and his history with the comic.
C|NET: Let me ask you about risk-taking and Hellboy. Were you a comic book fan when you were a kid?

David Harbour: I liked comic books when I was a kid, but I was much more of a video game guy. But I got into the Hellboy graphic novels in my 20s because they were recommended to me by a friend who was really into graphic novels.

I thought they were gorgeous and really interesting — this world of demons and devils, weird old folktales like Baba Yaga, and characters that just emerge from these weird disparate mythologies that come together in this Hellboy universe.

I like that because it has an alphabet that we understand, but it's put together in new ways, like new words and new sentences.

C|NET: You've said you're going to bring a little bit of Hamlet to the Hellboy reboot next year. What's the Hamlet connection?

Harbour: He's spawned into the universe by Nazi occultists to bring about the end of the world. And he is captured by Broom, who decides to raise him. So he's an orphan who was adopted. English isn't his first language, to say the least. He's destined to bring about the apocalypse and he, in his heart, just really wants to be a good guy. He idolizes people he grew up with in comic books, like Lobster Johnson, and he wants to be like a paranormal detective.

So he's kind of a silly, sweet creature but also a demon. And he lives in a world where human beings don't accept him for who he is. So even when he winds up saving people, they still show up with pitchforks and torches to try to kill him. I think the biggest struggle for him is he's hunting down monsters, and yet he is one. So what is he doing, exactly? That's a big conflict in him.

What I think I meant by the Hamlet comment is that he's sort of a tortured guy. And he deals with it in certain ways that certainly Hamlet doesn't. He's just very witty. He's got this dry, sort of put-upon humor, but underneath all of that is this desperate conundrum of like, "Where is this going to end? What's the end game for this?" I think that when I compared it to Hamlet, I was saying it's a mature movie with adult themes.

He's an adult struggling with adult things. It's not like whether or not I should kill the bad guy by punching him. It's more like, Who's the bad guy?
As to the differences between this new feature film version of Hellboy vs Guillermo del Toro's versions starring Ron Perlman, Harbour calls this one darker:
C|NET: And how is it different from Guillermo del Toro's 2004 and 2008 Hellboy movies?

Harbour: In the Guillermo del Toro ones, it was sort of a brighter world. Our color palette is a little darker. Hellboy has a lot more issues. He's a little more lost, a little more confused and conflicted. I think that makes for a darker tone in terms of what he's willing to do. It's more of a character piece, I think, than the Guillermo del Toro ones, which are a bit more spectacle and team-based and fun. Ours is a little more of a character study.
What about the humor aspect of the demonic hero? Well, he answered that too:
Harbour: You can't do Hellboy without humor.

He's the guy who the bad guy will give a huge monologue about — I'm destroying the universe — and Hellboy's like, "You talk pretty tough for a guy with no pants." He's always undercutting the situation and he has these one-liners. The script's really funny. One of the ways he deals with the world is to have this dry humor about it because it's so painful.
Needless to say, we're pretty excited for this film.
Lionsgate's Hellboy directed by Neil Marshall will hit theaters on April 12th 2019.
Enjoyed this article? Share it!