Seth MacFarlane is having a pretty good year with space, and it looks like that's not changing anytime soon. Do you remember back in 2014 when MacFarlane partnered up with Ann Druyan and Brannon Braga to create a reboot of the classic series Cosmos? We had it for a single season and were promised more, when the time was right.
Apparently, that time is now. It was announced today that Fox, along with National Geographic, have ordered a second season/continuation series of the reboot. It'll be called Cosmos: Possible Worlds, and boy are we excited. Cosmos: Possible Worlds reunites the executive producer team of Druyan, Braga, and Jason Clark, and Macfarlane for a new series ordered by Fox and National Geographic. Yes, Neil deGrasse Tyson is coming back, too.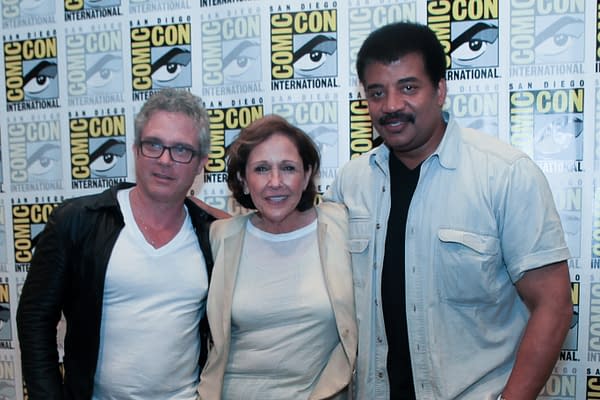 Check out the teaser that was released with the announcement:
This will be an interesting project this time around, as National Geographic is one of the properties being shuffled around in the Disney-FOX purchase deal. I'm strangely okay with the idea of Disney having NatGeo in their docket, the possibilities are endless.
National Geographic Books is going to publish a companion book for Cosmos: Possible Worlds that is being called a 'follow up' to Carl Sagan's international bestseller Cosmos: A Personal Voyage.
Cosmos: Possible Worlds is produced by Cosmos Studios, the Ithaca, NY-based company Ann Druyan co-founded in 2000, and Fuzzy Door Productions, Seth MacFarlane's company. Druyan and Brannon Braga are the series' writers. Druyan, MacFarlane, Braga and Jason Clark executive-produce.
No premiere date has been released yet, but word is we'll get the new series sometime in the spring of 2019.
Enjoyed this article? Share it!