Let's Take a Look at Scream Factory's Creepshow Blu-ray Release
Creepshow was released by Scream Factory not that long ago, with new features, new transfers, and a cool slipbox package with a book! They were nice enough to send a copy over for us to take a look at, so let's see how it all turned out.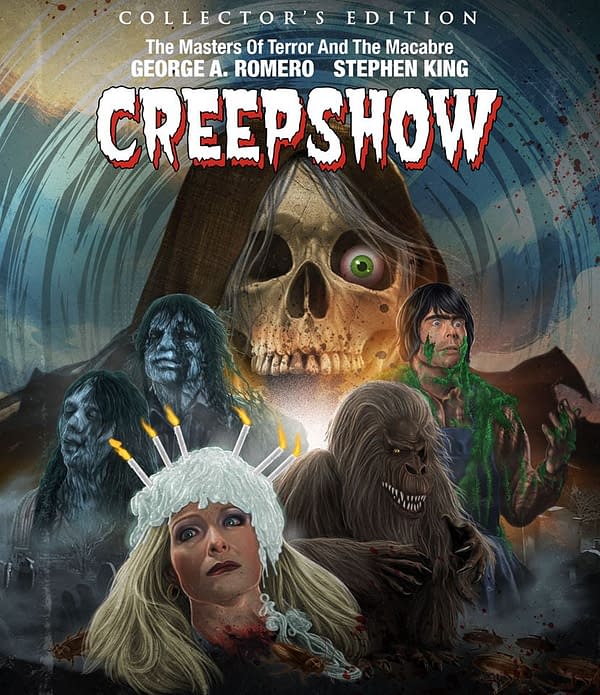 Film: 🍿🍿🍿🍿
The George A. Romero/Stephen King horror anthology is miles better than I remembered. It had been years since I sat down and watched this one, and I had forgotten how well all of the stories are told, let alone the stellar effects work. My favorite story is still "Something to Tide You Over", with Ted Danson, Gaylen Ross, and Leslie Nielsen. "I can hold my breath for a long time!" Classic. It is also so much funnier than I remembered, although both of these creators can say that about most of their work. You can tell it was a labor of love for them both, and the love is on the screen.
Picture Quality: 🍿🍿🍿🍿🍿
This is the best this film has ever looked, and it is hard to think that it could ever be topped. The new 4k transfer of the film is gorgeous. The colors the film is famous for are warm and crisp, and they even went in and cleaned up and fixed some things that irked fans for a while. Not once did my copy dip or drop in quality no matter what was happening on the screen, and I am floored by the amount of work they must have put into this release. Superb.
Audio Quality:🍿🍿🍿
The two mixes offered are pretty good. The stereo track is going to be closer to the even mix you were looking for. The sound effects never really overwhelm the dialogue, a big pet peeve of mine. The other 5.1 track has a little more kick to it, but makes everything sound a little like they inhaled helium from a balloon. It feels sped up ever so slightly, and is a little distracting.
Special Features:🍿🍿🍿🍿🍿
This is one of the most packed discs they have ever released. Three commentaries are included, along with seven new featurettes, behind the scenes footage, Horror Hallowed Grounds location tours, deleted scenes, trailers, still galleries. Everything you have ever wanted to know about the making of this film it is here. My two favorites features are the Mondo poster one about the posters they have done for Creepshow, and the Collecting Creepshow one. As a horror collector myself, seeing all of that stuff is always a great time.
A special shout-out goes to the packaging. The case and book are housed in an awesome slipcase with new wrap-around artwork. The book, featuring an essay by critic Michael Gingold along with tons of artwork and stills, is a fun read.
This is just a must-own release. It is as simple as that. Horror fans, film fans, anyone should be able to enjoy this classic in the genre. Hilarious, creepy, and featuring fantastic technical specs and special features, this is one of the best releases of the year. Buy it.