Daily 'Dune': Legendary CEO Says Yes, 2 'Dune' Movies!
Goodness are we happy to report that the powers that be at Legendary Pictures are on board with director Denis Villeneuve's desire to do at least 2 Dune films.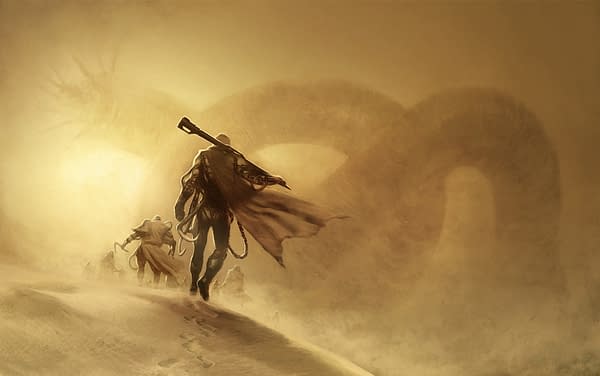 Back in March of 2018, the multi Oscar-nominated filmmaker let it be known that his plan was to do "at least 2" films to cover the first novel in Frank Herbert's seminal science fiction classic saga of Arrakis. This was again echoed by Brian Herbert, son of Frank and continuer of the series in additional books.
Filming is reportedly underway right now in Wadi Rum in Jordan, with several of the announced cast sharing updates on their various social medias.
Joshua Grode, Legendary Entertainment CEO, just spoke with The Hollywood Reporter about the studio's upcoming slate, and confirmed the plan for 2 films.
Joshua Grode: We're making a diversified slate financially. We have some that are huge like Dune.

THR: Will Dune be two movies?

Grode: That's the plan. There's a backstory that was hinted at in some of the books [that we expanded]. Also, when you read the book there's a logical place to stop the movie before the book is over.
Two-time Oscar nominee Timothée Chalamet will star as Paul Atreides, Rebecca Ferguson as Lady Jessica Atreides, Oscar Isaac as Duke Leto Atreides, Josh Brolinas Gurney Halleck, Stellan Skarsgård as Baron Harkonnen, Zendeya as Chani, Jason Momoa as Duncan Idaho, Javier Bardem as Stilgar, Charlotte Rampling as Reverend Mother Gaius Helen Mohiam, David Dastmcalchian as Piter De Vries, Chang Chen as Dr. Yueh, and Dave Bautista as The Beast Raban Harkonnen. Hans Zimmer will be composing the score.
Set on the planet Arrakis, we find ourselves exploring the story of two warring galactic royal families House Atreides and House Harkonnen. When Duke Leto Atreides is assassinated, his son Paul and wife Lady Jessica escape only to be adopted by the Fremen, who becomes Paul's personal army against the Harkonnen as he develops powers from the spice, a substance that extends life and powers interstellar travel. A tangled web of royal intrigue is revealed with the Emperor and other cosmic powers pulling the strings while attempting to erase house Atreides.
Dune is set to hit theaters on November 20th, 2020.
Shai Hulud.