Dan Fogler says 'Fantastic Beasts 3' Delayed Because It's "Bigger Than the First Two"
The Fantastic Beasts series is something of an odd duck in terms of franchises. They aren't commercial or critical failures by a long shot, but they aren't exactly beloved either. The second entry in the series, Fantastic Beasts: The Crimes of Grindelwald, received a particularly hard kicking from critics. Back in January, it was announced that production for the third movie in the series was going to be delayed from July to late fall. The reasons given were that the team needed more time in pre-production, but no one was really saying anything specific.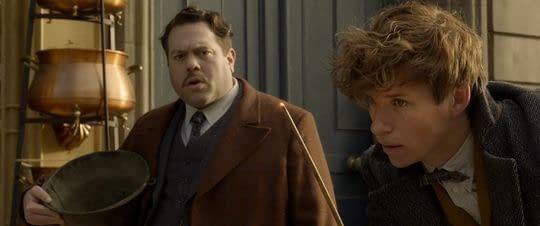 HeyUGuys recently got the chance to interview Dan Fogler, who plays Jacob Kowalski, and asked him about the delays.
Yeah, we start in the Fall. The movie is going to be gigantic! The reason we were given is that the movie is bigger than the first two combined. They needed more time to prep and they didn't want to rush anything so they pushed it back. I can tell you that we are going to Brazil. I don't really know much…[laughs]. I'll get a script closer to when we start shooting.
Brazil is an interesting location. They have said that each movie will take place in a different city, so did Fogler just reveal the location of the third movie? Maybe. As for whether or not they are course-correcting a bit after the kicking that Crimes of Grindelwald received, we'll have to see. The later production start means they will only have a year for photography and post-production, so no one should be surprised if the third movie ends up delayed in some day.
The third installment of the Fantastic Beasts series will be directed by David Yates and currently has a release date of November 20, 2020.