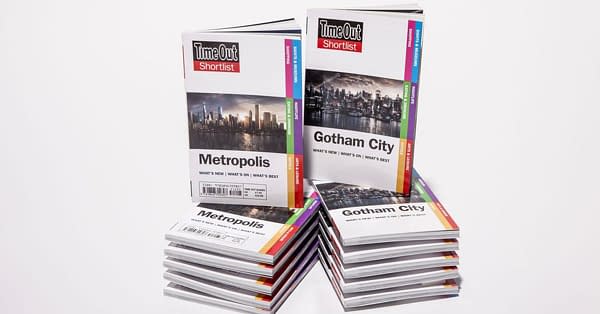 Bouncing around the comics and film internet this evening is speculation about the tweet below from Suicide Squad writer and upcoming Gotham City Sirens director David Ayer. The implication is obvious — Black Mask will be the villain of Gotham City Sirens. Maybe. Probably.  I tend to agree, but there also might be more to this hint than the revelation of the film's villain.
The pic Ayer chose is a panel from a page from early on in the Batman: Under the Red Hood storyline in Batman #635 – 650 by Judd Winick and Doug Mahnke. It also happens to be the most common Black Mask image on the internet.  Which probably means that Ayer simply googled for an image of the character to show, rather than having a specific image in mind that he wanted to reveal.
A minor point, but we already knew that Black Mask aka Roman Sionis exists in the DCEU, because a promotional item put out for Batman v Superman: Dawn of Justice last year told us so.  The Gotham And Metropolis Time Out Travel Guide has a listing called "Sionis Below", which is described as:  "According to rumor, this stripped down sweatbox in the warehouse district is cover for a bare-knuckled amateur fight club–but its owners and loyal patrons remain tight-lipped. The club has no posted hours, no phone, no website and it changes location semi-monthly."
This sounds an awful lot like the fight club that Bruce Wayne visited in Batman v Superman: Dawn of Justice while he was on the trail of the White Portuguese (which he thought was a person, but was in fact a cargo ship).
With that connection already established, what else might we find? Well, the tour guide also has an entry for Wayne Botanical Garden.  "Open year round, the garden is a showcase for new developments from Wayne Biotech, with color-shifting roses and flowers that bloom in the winter snow."  This of course is an indirect reference to Poison Ivy.  In the version of the character introduced during the September 2013 "Villains Month" event,  Pamely Isley is an intern at Wayne Enterprises Bio-Chemistry division, and is fired by Bruce Wayne after she proposed the development of chemicals that could brainwash people — she then accidentally spills them on herself.
Given the givens, with the Black Mask and Poison Ivy data points in hand, we can then note that several other characters and elements which have a connection to the Gotham City Sirens comic by Paul Dini, Tony Bedard, Peter Calloway, Guillem March, Andres Guinaldo, and others are also present in the Gotham And Metropolis Time Out Travel Guide.  Most notably, there's Zatara's Magic Shop, which, "has offered equipment and advice for the magician's community since 1938" — the date is a rather nifty reference to Zatara's first appearance in Action Comics #1 from that year, and of course, Zatanna Zatara is Zatara's daughter, and… it also tells me that someone is paying attention to the details here).  And mayyyyybe there's another very important reference here, with a blurb about the inclusion of surgeon Roger Elliot's display at the Gotham Wax Museum.  Roger Elliot's son Thomas becomes Hush.
All of which means… what?  Possibly, that they've put quite a bit more overall world-building effort into the DCEU than people have realized up to now, and that perhaps, some of the above elements will be mixed, matched, and tranmogrified from the comics and into the Gotham City Sirens film script.
— David Ayer (@DavidAyerMovies) February 27, 2017
Enjoyed this article? Share it!