DGA Announces 2018 Nominations with Some Notable Names
The Directors Guild of America (DGA) announced their crop of 2018 nominees for outstanding directorial achievement this morning, and they're different than the other award shows thus far. The Golden Globes notably didn't nominate any women this year, nor did the BAFTAs, but the DGA has.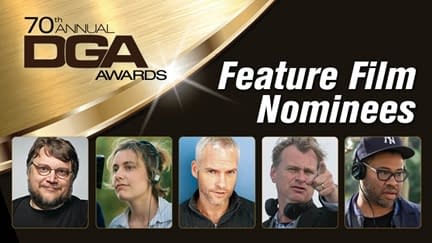 Lady Bird writer and director Greta Gerwig has been nominated for her film, which won the Globe for best comedy or musical and Saoirse Ronan for best lead actress in the same category. She wasn't nominated in the director's category for the Globes, nor for the BAFTAs, causing many to scratch their heads. This is her first DGA nomination.
Get Out director Jordan Peele has been nominated for two awards — for outstanding directorial achievements and for first-time director. Peele was also not nominated for a Globe or BAFTA.
The Shape of Water garnered another nomination for director Guillermo del Toro, who took home best director at the Golden Globes. This is his first DGA nomination, as well.
Three Billboards Outside Ebbing, Missouri director Martin McDonagh has been nominated in the category as well, another first-time DGA nominee.
Christopher Nolan got his 4th nomination in the feature film category for his epic Dunkirk.
Finishing out the first time director category are Geremy Jasper for Patti Cake$, William Oldroyd for Lady Macbeth, Jordan Peele for Get Out, Taylor Sheridan for Wind River, and Aaron Sorkin for Molly's Game.
The 70th Annual DGA Awards will be announced on Saturday, February 3rd at the Beverly Hilton Hotel in Los Angeles.