Does New 'Dark Phoenix' Photo Tease Magneto's Brotherhood?
Okay sure, maybe the lineup featured in the most recent photo released by FOX for Simon Kinberg's Dark Phoenix isn't the NORMAL set of members of Magneto's Brotherhood of Evil Mutants, but, what if it is!?
Posted just last week by the official X-Men films Twitter account, this image features a pretty beaten-up looking Michael Fassbender as Magneto, in a wheelchair, being pushed by Nicholas Hoult as Beast, with Alexandra Shipp as Storm to the left, with Andrew Stehlin as Red Lotus next to her, Kodi Smit-McPhee as Nightcrawler to the right, and Kota Eberhardt as Selene next to him: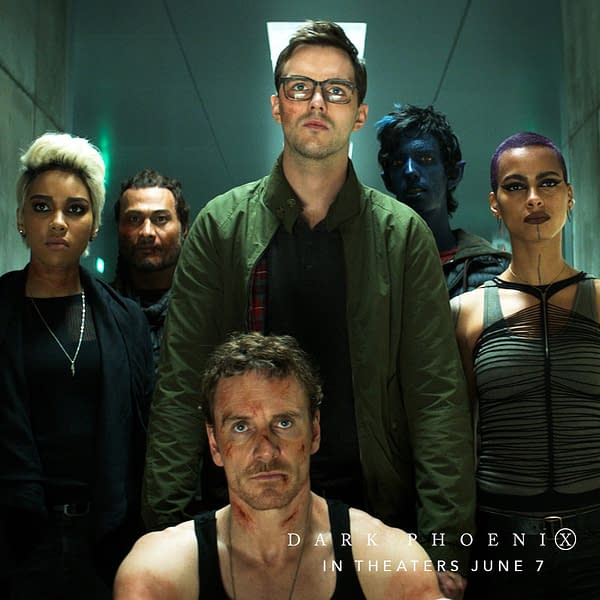 Okay, but, Selene? Like, later-Black Queen Selene?
In DARK PHOENIX, the X-MEN face their most formidable and powerful foe: one of their own, Jean Grey. During a rescue mission in space, Jean is nearly killed when she is hit by a mysterious cosmic force. Once she returns home, this force not only makes her infinitely more powerful, but far more unstable. Wrestling with this entity inside her, Jean unleashes her powers in ways she can neither comprehend nor contain. With Jean spiraling out of control, and hurting the ones she loves most, she begins to unravel the very fabric that holds the X-Men together. Now, with this family falling apart, they must find a way to unite — not only to save Jean's soul, but to save our very planet from aliens who wish to weaponize this force and rule the galaxy.
Dark Phoenix stars Michael Fassbender, Evan Peters, Jennifer Lawrence, James McAvoy, Nicholas Hoult, Jessica Chastain, Tye Sheridan, Sophie Turner, Kodi Smit-McPhee, and Alexandra Shipp.
It'll (hopefully) hit theaters on June 7th, 2019.