Hellraiser Icon Doug Bradley Launches YouTube Channel and It's Awesome
Hellraiser actor Doug Bradley has launched his very own YouTube channel. The actor will read poetry, short stories, and whatever else he feels like posting. Right now, there are two videos up on the channel, including the beginning of him reading Mary Shelley's Frankenstein. That's right; you can now hear Pinhead himself read some of literature's great works to you for free. He even has a most impressive collection of horror memorabilia as a backdrop. I am especially jealous of that The Ghost of Frankenstein print just behind his head. Check out the first of Doug Bradley's Frankenstein readings down below.
Doug Bradley is Horror Royalty
Mr. Bradley has such a wonderfully soothing voice. One of the things that has always terrified me about Pinhead in the Hellraiser series is how cool and collected Doug Bradley plays him. He is such a gentle soul, and that something so heinous and evil can be born from this man frightens me to no end. He has a great point about the novel as well: it really is a story that everyone thinks they know everything about, yet most have not read the thing. His recounting of some of Shelley's backstory is fascinating as well. The best part is there will be no shortage of things for him to read either.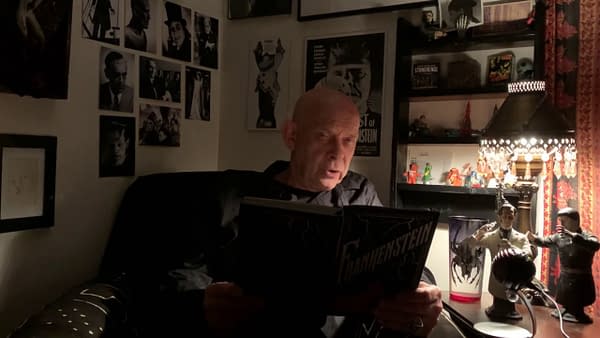 Obviously, fans will want him to jump right into The Hellbound Heart, the Clive Barker story that launched his career as Pinhead. While that would be nice, I think Doug Bradley would match up well with Stephen King, especially some of his short story collections. Outside of horror, it would be cool to hear him read some historical books about various subjects. Who cares really, he can read whatever he wants, and we will all be there, listening. You can subscribe to his channel here.