Dwayne 'The Rock' Johnson just dropped the new Skyscraper trailer and as he said on his Instagram, it looks like his most physically taxing role since Tooth Fairy.
See the new full length trailer below.
I made a movie that pays homage to films that inspired me & a generation w/ grit, guts and heart – DIE HARD, THE TOWERING INFERNO & THE FUGITIVE.
One of the most anticipated movies of the summer.
Enjoy my new full length trailer for #SKYSCRAPER JULY 13. pic.twitter.com/Hb6ijg4h3F

— Dwayne Johnson (@TheRock) May 23, 2018
If the full length trailer is any indication, this is typical The Rock fare. Which I am 100% here for. Skyscraper feels more San Andreas than Rampage in that it feels like it's going to have a limited sense of humor. This is actually rather bizarre since the film is written and directed by Rawson Marshall Thurber who directed The Rock in Central Intelligence (which I fully found to be hilarious).
Of course we have to set up the building (The Pearl) as the most advanced super structure in the woooorlllddd. Which means of course someone is going to try to mess with it. Why The Rock and his family are the first family to move into the residential section is questionable. Who would want to move into a building like that alone? I hate noise from neighbors as much as the next person but I don't want to live in a giant skyscraper alone.
Oh and people have already been taking Skyscraper rather seriously, though probably not in the way the filmmakers hoped. When the poster was first released it sparked a hilarious and yet scientifically charged debate over whether or not The Rock could even make the jump portrayed in the poster.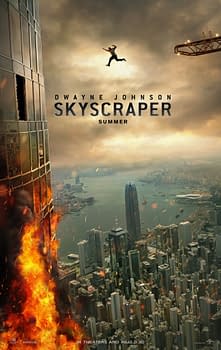 We actually saw in the Super Bowl trailer for the film that the jump pictured takes place at night, meaning the whole poster is a lie. What?! Marketing materials lying to us?! Blasphemy.
https://www.youtube.com/watch?v=THWBs0_khNs
I love that this latest trailer also somewhat but doesn't address that moment. Neve Campbell who plays Johnson's wife asks how he got into the building and his simple response is "I jumped off a super crane."
The latest trailer elaborates on the Taken/Mission Impossible: Ghost Protocol/Every other The Rock serious action movie vibe we've gotten so far. In fact it feels like Thurber had a giant wheel of action tropes and just spun it and saw what landed. The result was: Veteran, family in peril, Asian country setting (gotta get them overseas dollars), and heights.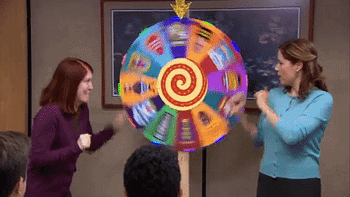 Did the new Skyscraper trailer bring anything particularly revelatory to the table? Not really. But are we all going to probably see it anyway? You bet.
Enjoyed this article? Share it!