By Madeline Ricchiuto
Strike Vector has been on Steam for a year now, but is finally getting a next gen console release later this year- complete with a new campaign mode and updates to the multiplayer.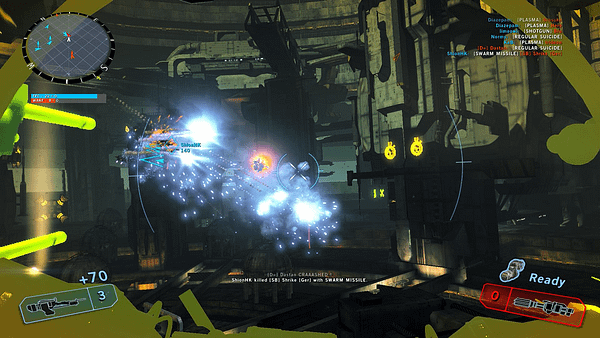 While the Steam version of Strike Vector is a fun multiplayer third-person shooter where you control a flying mech, Strike Vector on the consoles will include a single-player mode with 15 new campaign missions and some story, both about the world and about the player character.
To be very clear, the development team does not consider Strike Vector a flight sim, although you move by flying so it kind of is a flight sim by nature. Semantics, I suppose. Its a visually striking game with decent controls and shooting capabilities, so if you're into aerial combat, you may want to check it out.
Many of the other improvements made with this release will be an improved AI system, which allows you to face off in multiplayer against a team of AI who mimic human behavior, and a whole bunch of new servers so you won't get stuck waiting to play.
Strike Vector, like many games at E3 this year, boasts a large amount of customization for your mech's weapons and armor. There are up to 10,000 different combinations of equipment, and guns range from a basic machine gun to a rail gun and even a tesla coil.
The updated game will also be powered by Unreal 4, rather than Unreal 3. Which matters a lot to some gamers.
Enjoyed this article? Share it!