Edward Snowden To Deliver Alternative Christmas Message On Channel 4 Tomorrow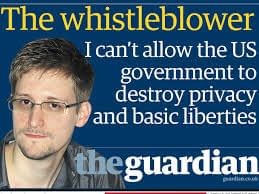 The Queen's Speech on Christmas Day is a long standing British tradition, in which the reigning monarch addresses their subjects, first by radio and now by television as well.
Not quite as long standing, but still pretty traditional now is the Alternative Christmas Message on Channel 4, scheduled against the Queen for the last twenty years and presented by the likes of Quentin Crisp, Marge Simpson, Ali G, Sharon Osbourne and now?
Edward Snowden. The first TV thing he's done since, you know. I wonder what secrets he will reveal?
(Brendon's note: they normally announce who will be doing the message a little further ahead of time, so I pretty much called this one – if calling it means making some joke about the prospect. Which was probably fed to Channel 4's honchos by Google or something. Maybe this is all my fault.
Anyway, one reason I'm intrigued by this is to see if it's obvious that he's really in Russia from the footage. That might shut up some crazy conspiracists.)