Netflix' new movie about Eurovision, called Eurovision Song Contest: The Story of Fire Saga, came out June 26, and I know I've gushed about it on multiple occasions, but it is amazing in every aspect from the story to the cast – right down to the costumes, and I will never be over it. It's no wonder the fashions seen in the film are top-notch: they're done by costume designer Anna B. Sheppard, whose past work had garnered her three Oscar nominations.
Now, the Polish designer is better known for creating some of the most iconic costumes in period pieces, specifically WWII films like Schindler's List, Captain America: The First Avenger, The Pianist, and Inglorious Basterds – but that doesn't mean she can't do contemporary or fantasy. Sheppard also designed fantasy film Maleficent, and modern fashion films like Now You See Me 2 and the Tom Holland Spider-Man franchise. Suffice it to say, she knows quite a bit about fashion, both fantasy and realistic fashion.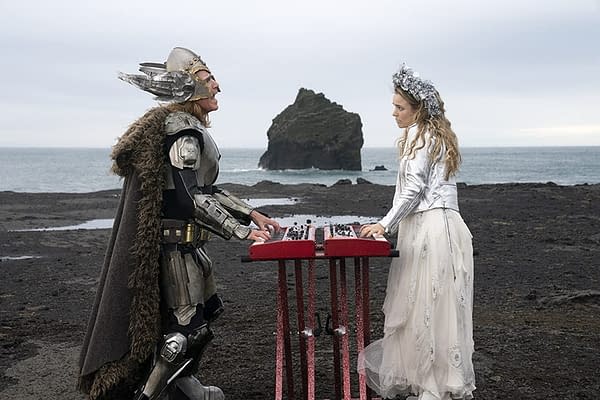 Those two elements are married perfectly in Eurovision Song Contest: the Story of Fire Saga; according to an interview with Fashionista, this was her second favorite movie to design for, with her favorite being Inglorious Basterds. According to her, star and producer Will Ferrell had very specific visions in mind when it came to the fictional duo's performance looks, and Sheppard talks about the process of creating the costumes – especially their first stage looks for the Icelandic qualifiers where they first perform their song, "Double Trouble."
"He said, 'I want a white leotard.' But doing it for the stage is rather difficult. I [made it out of] white neoprene, so it was thick enough to look good," said Sheppard. "Then I had the idea, 'I will make a dress out of the same fabric for her,' so it's like homemade costumes."
She also talks about shopping designers like Ralph Lauren, Miu Miu, Gucci, as well as scouring vintage shops all over London to find the right pieces for Lars and Sigrit's everyday wardrobe. Speaking of Sigrit, her rainbow-shingled song-along dress is very 2007 Paco Rabanne and it fits both the character and scene beautifully. Her dress, along with so many other wonderful looks, can be best seen in the film's Song-Along segment.
There are so many wonderful costume creations in Eurovision Song Contest: the Story of Fire Saga – too many to catalog. The film is on Netflix, where you can appreciate all the textiles in their glory.
Enjoyed this article? Share it!