"Evil Dead" Returns to Theaters with 4K Remaster and New Score
Get ready to relive Sam Raimi's 1981 classic Evil Dead remastered in 4K thanks to Grindhouse Releasing with a new reimagined score courtesy of original composer Joseph LoDuca. Not only has the score been redone, but also the mixing for an enhanced 5.1 surround sound experience courtesy of Marti Humphrey and Jussi Tegelman, who worked with Raimi on Drag Me to Hell and the TV series Ash vs. Evil Dead.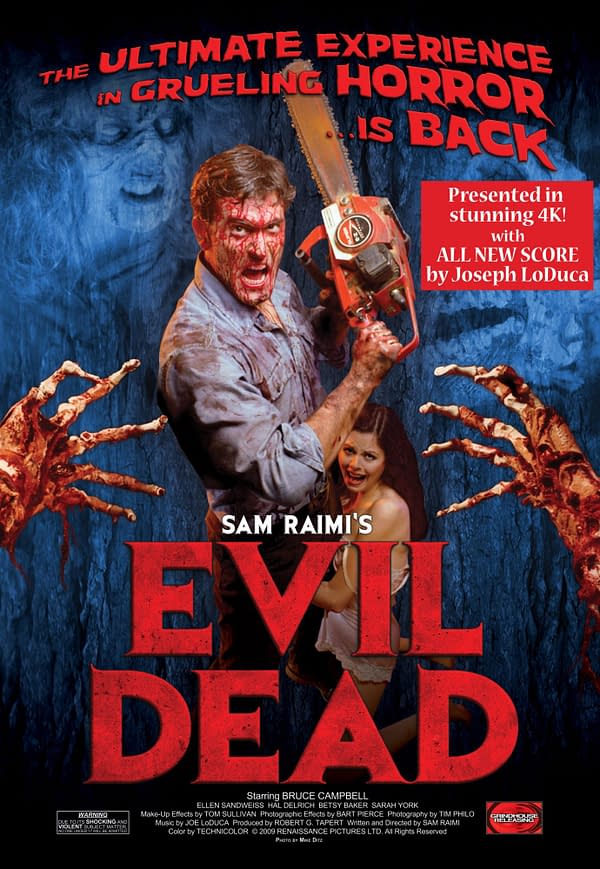 The cult classic stars Bruce Campbell as Ash Williams, who is stuck in a remote cabin along with his doom college friends and his girlfriend. As the forces of evil take hold of each of them, it's up to Ash to stave off the deadite threat and try to survive the night. The film spawned two sequels in Evil Dead 2 and Army of Darkness, a TV series Ash vs. Evil Dead that lasted three seasons, comics and video games.
"Mixing the sound for Evil Dead in the early 80's, we were forced to shove everything into one monaural box," said Campbell in the press release. "As a result, Joe LoDuca's great score had to compete unfairly with Kandarian Demons, gore sound effects and lots of screaming. With this new release, Joe can finally have his dynamic composition mixed, balanced and featured properly – for perhaps the first time ever!"
Grindhouse Releasing owner and Oscar-winner Bob Murawski worked with Raimi to restore the film from the original 16mm camera negatives and transfer them to 4K. Murawski's worked with Raimi on several of his films including Darkman, Army of Darkness, The Gift, Spider-Man trilogy, Drag Me to Hell and Ash vs. Evil Dead.
With this fantastic new score, Joe LoDuca proves that he's the Bartok of blood, the Shostakovich of shock, the Mahler of the macabre. The new music, new sound mix, and new 4K restoration have elevated EVIL DEAD from the scary to the sublime."
How has Evil Dead influenced you as a horror fan? What is your most favorite moment from the film or franchise?